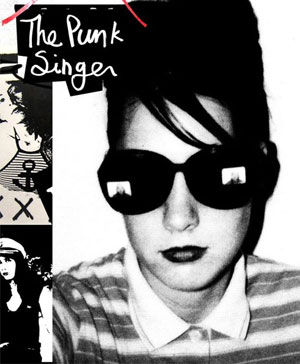 "She just pretty much started the whole riot grrrl music scene, but hey…"
I might be quoting The L Word but I'm talking about Kathleen Hanna—the former front woman of both Bikini Kill and Le Tigre.
For the past 20 years Hanna, a huge woman's rights and pro-choice activist as well as a "founder" of third wave feminism, has been an idol to many. Finally she, along with her close friend, filmmaker Sini Anderson, are ready to tell her story.
Nearly two years ago Hanna approached Anderson about working on the documentary Who Took The Bomp? Le Tigre on Tour, but instead of focusing on one year of Le Tigre's run, Anderson wanted to concentrate on Hanna's entire career.
"Kathleen was scared," says Anderson to Meets Obsession magazine. "But I kept telling her how crucial her personal story is and that needs to be told before she's seventy, or dead."
Hanna finally agreed and the two friends began working on the project now known as The Punk Singer.
The film combines 20 years of footage and interviews with Hanna's former bandmates Kathi Wilcox (Bikini Kill), and Johanna Fateman and J.D. Samson of Le Tigre, her husband Adam Horovitz (aka Ad-Rock of the Beastie Boys), feminist scholars, and of course, Hanna herself.
"I paid a lot of attention to the aesthetic," says Anderson. "The film is shot like her art, but I also wanted to hear her story and push her to answer questions she's never answered before. I think we've done that."
The Punk Singer, Anderson's first feature film, was shot with nearly no funding other than the director's savings account and a crew that was willing to work for free.
On September 13, the final interviews were handed over to editor, Bo Mehrad, who's been working on the project for the past several months.
"I was more concerned with making the film than raising the money to make the film," explains Anderson who says that only three percent of the budget was raised for the year and a half of filming. "The production was produced on magic. Post-production, however, takes more than magic. It needs tangible money."
| | |
| --- | --- |
| | |
| | Kathleen Hanna (left) with Sini Anderson (right). Courtesy of Sini Anderson. |
How much money does The Punk Singer need to be completed? The "bare-bone minimum" as Anderson calls it, is $44,000.
On September 27, Anderson created an account on Kickstarter.com and has one month to raise the entire amount. But in the true DIY spirit of punk rock and riot girl fashion, over $39,000 has already been pledged.
"I didn't want to do a kickstarter 'cause I didn't want to ask," explains Anderson. "But what I've realized is that all this support we're getting is artistic fuel for me. It's the thing I didn't know I needed until I saw it."
If the money isn't raised by October 27, Anderson says they'll keep going just like they have been, but editing will come to a halt.
However, if more than $44,000 is raised, the remaining money will be put towards color correction, sound mixing, and paying debts.
"We cannot get too much money pledged for this project. We have a budget that's a year and a half long. The $44,000 only covers 16 weeks of that."
Why pledge?
Because this film is for everyone who loves Kathleen Hanna, her music, her message, queer art, and independent art.
Anderson says that the best part of making The Punk Singer for her has consistently been that "every time I thought it was more than I could handle, I've gone back to the footage and within minutes of watching it, I'm convinced it's not too much for me. Kathleen is really inspiring in that way."