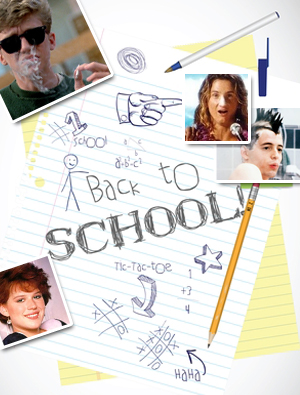 Summer's about to end, and everyone knows what that means—back-to-school time!
We spent our summer weekends with Bernie, voting for Pedro and fighting those nasty cheerleaders. (Bring it on, bitches!)
So class, put your iPhones away, take out your Number 2 Pencils, and prepare yourself for a pop quiz (assh*&!) on back-to-school shows and movies.
Make sure you double check those answers, if you get it wrong, a bus explodes, you don't turn sixteen, and we tell mom your babysitter's dead.
Now let's see who's head of the class.
The questions get harder as you go along, so for the slow ones, we put the answers at the bottom of the sheet.
P.S. Has anyone seen Bueller?
1. Name the recent movie that stars a scarred, Emma Stone in which she feigns being the high school whore?
2. Who played the original, and let's face it, better version of Teen Wolf?
3. In Saved by the Bell, what does Elizabeth Berkely's character, Jesse take in the season's most gripping episode about "drug abuse" that makes her addicted and "so scared"?
4. What is the name of the major hottie that Molly Ringwald is after in Sixteen Candles?
5. Name the song that's playing in the background of the party that Lindsay Lohan throws when her parents are out of town in the movie Mean Girls.
6. Dude! What does Spiccoli order in the middle of class in Fast Times at Ridgemont High?
7. For the literates, what high school movie riffs on a book by Jane Austen and begins with the heroine saying, "Okay, so you're probably going, 'Is this like a Noxzema commercial or what?' But seriously, I actually have a way normal life for a teenage girl."
8. In The Breakfast Club, what Mighty Ducks star wears a wife beater during the entire movie?

---

Caroline Cullen is currently obsessed with Dirty Shirleys, Pauly D's pecks, and Gordon Ramsay's Kitchen Nightmares on BBC.
All author posts