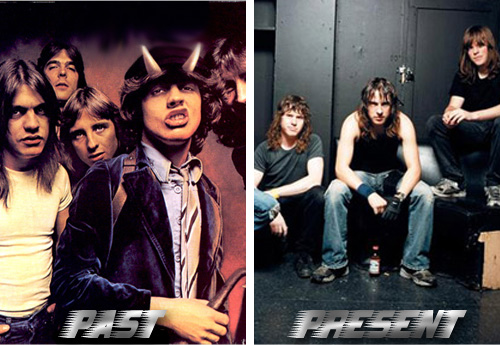 Their energy is unmatched and their craft is uncontested. But rock band AC/DC's genius is utterly understood and agreed upon in the rock world.
AC/DC is known for pushing the auditory limits of sound and style through their infectious riffs, shrieking vocals, and imaginative on stage attire.
Founding brothers, Malcolm and Angus Young refined hard rock and blasted through arenas with a sense of revolutionary fortitude, power, and explosive personality. This band of howling hooligans immortalized themselves as pioneers of heavy metal, as they invented a new offshoot of rock, one founded on the tenets of noise, electricity, energy, and passion.
Perhaps it's blasphemy to compare a contemporary formation of singers and shredders to the dynamite mastermind of AC/DC, but at the very least, Australian band Airbourne is doing something exceptional.
The band was formed in 2003 by brothers Joel and Ryan O'Keeffe.  Soon after, rhythm guitarist David Roads and bassist Justin Street joined the furious O'Keefe brothers.
It's clear that their influences lie in the likes of AC/DC, Motörhead, Angel City, Thin Lizzy, and Judas Priest, but it's also obvious that they're creating their own personal hybrid of classic and contemporary rock.
With songs like "Stand Up For Rock N' Roll" and "No Way but the Hard Way," Airbourne proves themselves potent, loud, gravity redefining, and musically world-shattering in their reception and presentation.
Their talent radiates in both live performance and recordings—as they naturally do something many modern bands steer away from doing—they actual play…and they play well.
They jam with a magnitude that's both electrifying and astonishing.
But in the end, these two bands have one underlying thing in common: they will forever be wholeheartedly and eternally wailing, "Let there be rock!" at the top of their lungs.
| | |
| --- | --- |
| | |
| ….. | |
|  AC/DC Performing Back in Black live. |  Heartbreaker by Airbourne |