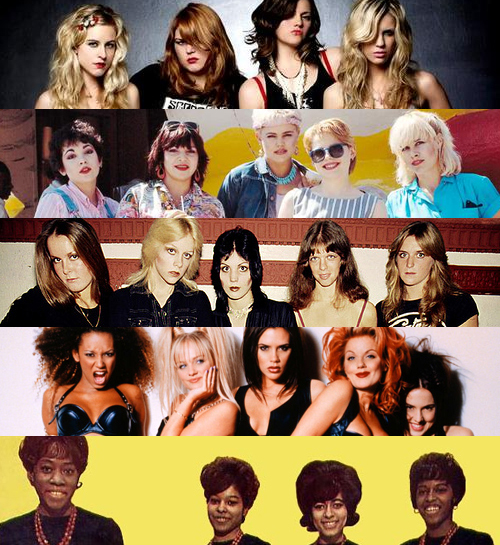 It's no news that the girl group has had a long and sordid history in the music business.
Many courageous female musicians have attempted to brave the harsh waters and failed miserably.
Yet, those that have had the talent and wherewithal to make it in a once male-dominated industry, have left long lasting impressions on listeners and continue to be inspirations for girls who just don't seem to give a damn about their bad reputations, those girls that just want to spice up their lives, or, maybe even those fearless souls that wanna take it off…
So, it is only fitting that for Flashback Friday, we take you back to some of our favorite girl groups of all time.
The Donnas
A true rock band, The Donnas have done rock n' roll in the simplest possible way.
Although some naysayers say the Donna's are too gimmicky for their tastes, I don't see it. I would even call them under-produced. Their crude vocals, that at times, sound as if they've been recorded in someone's basement, screams HIGH SCHOOL in the least angsty way possible. They remind me of adolescence- not in a brooding, 'why doesn't the world understand me?' kind of way, but in the way adolescence is supposed to be – free, rebellious, and raw.
The Runaways
Who couldn't get Cherie Currie's moans out of their head when they first heard Cherry Bomb?
The Runaways, credited as the first all girl rock group, command respect in a way that most rock stars dream of. Currie even said it herself, "Hello world I'm your wild girl", and wild she was- they all were. Although their time together was short lived, they made history, opening doors for females and other nonconformists all over the world.
The Chiffons
With the current influx of female performers, sometimes people forget to look back… like way back. With the 1960's came the birth of the girl group and soon after that came The Chiffons. One of the most prolific threesomes of their time, the chiffons produced hit after hit, and guess what? They're still going.
The Go-Go's
What would the 80's have been without these Brits? Their first album, "Beauty and the Beat" is considered one of the forefathers of new wave, and hits from that number one record are still being remade, over and over again, but nothing compares to the original.
Their simple riffs and feminine, carefree lyricism will keep their beat in the hearts and ears of fans for some time to come.
Spice Girls
What can I say? I'm a product of the 90's and therefore I had no choice but to include the institution that is the Spice Girls. Some say they're shallow, and maybe a little exploitive, but so what?
Only they could get away with shouting "girl power" in their overproduced falsettos while wearing micro-minis and fishnets. What I learned from the Spice Girls? You can still be a feminist and wear seven-inch clear-heeled go-go boots… Hell Yeah!
---

Saron is a writer and student born in Ethiopia and raised in Washington, DC. She is incapable of keeping a phone for longer than a few months, exclusively wears Miss. Dior Cherie, and her guilty pleasures include any novel written by V.C. Andrews (don't judge), Essie's "Little Brown Dress", and Stoli. She is currently obsessed with the poetry of Edmund Wilson and The Arctic Monkey's latest album "AM".
All author posts