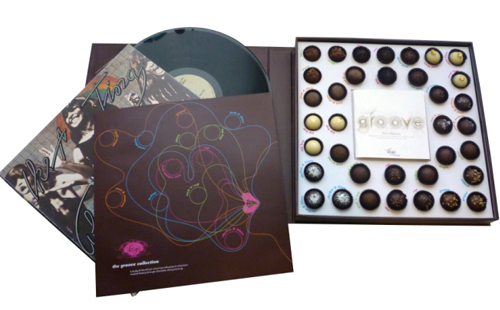 Does the world really need any more excuses to eat chocolate?
Indulging on this high calorie confection has just become that much more decadent as high end New York City chocolatier, Vosges Haut-Chocolat has just created the "New" Groove Truffle Collection, or "musical truffles".
A part of Vosges' Holiday collection, these 36 truffle treats come in a high tech package designed by Marian Bantjes and will come with a music companion in the form of a CD and vintage record so that you can listen to American classics while you munch.
The "NEW" Groove Truffle Collection will come in 12 different music themed editions, with each having their own set of ingredients—for example, the Rural Blues edition will come with an assortment of truffles made with Anson Mill grits, burnt brown sugar, caramel, dried corn kernel and white chocolate, while the Soul & Motown edition truffles are made with sweet churned cultured butter, ganache, Fleur de Sel sea salt, and milk chocolate.
This multi-sensory approach to candy offers a musical education with every bite. At $125 dollars a box, you will be able to find these high tech delicacies in mid November at Vosges Haut-Chocolat.
---

Saron is a writer and student born in Ethiopia and raised in Washington, DC. She is incapable of keeping a phone for longer than a few months, exclusively wears Miss. Dior Cherie, and her guilty pleasures include any novel written by V.C. Andrews (don't judge), Essie's "Little Brown Dress", and Stoli. She is currently obsessed with the poetry of Edmund Wilson and The Arctic Monkey's latest album "AM".
All author posts