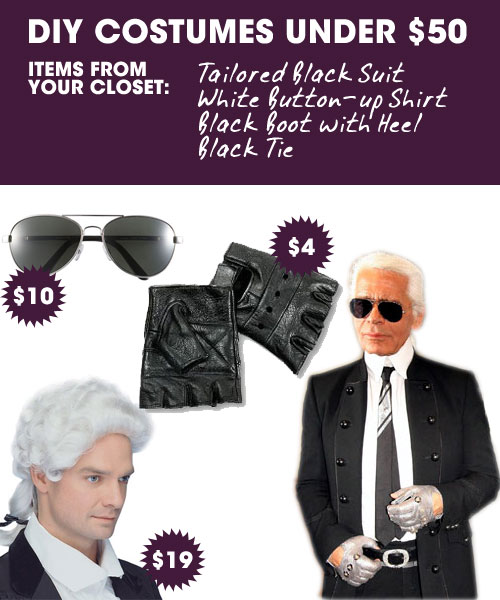 Today marks the first of our Halloween Series, DIY Halloween Costumes Under $50.
During the month of October, we'll bring you some of our most original and creative costume ideas that you can put together with clothing that you probably have in your closet.
Some of the costumes may require additional props, but rest assured, we'll make sure that to complete your fabulous costume, you'll spend no more than $50.
So, this Halloween don't wait until last minute to plan your costume.
For a Halloween costume that is more stylish than scary, turn heads and transform yourself into the iconic fashion designer Karl Lagerfeld.
Karl Lagerfeld, the mastermind behind the Chanel runways, is a fashion-forward and feasible costume that consists of several items that are already in your closet.
Known for his bold fashion choices and ever-evolving style, you can re-create the consummate trend-setter's look with a tailored black suit, or black blazer and black jeans.
Pair it with a crisp white button-down shirt and a black necktie.
You can jazz up this outfit with an ensconcing pair of black sunglasses, black fingerless gloves, and black boots.
The final touch is to affix a silver crucificx to your lapel and don a grey wig tied up with a black ribbon to create Lagerfeld's famous ponytail.
And to properly pay homage to the world-famous couturier, a discerning glare and an air of assurance is a must!
Here are additions to what you may already have in your closet that will help replicate the haute stylings of the reigning titan of fashion.
Here's where to buy what you'll need to complete your costume:
Interstate Leather Large Men's Basic Fingerless Gloves | $4.99
KW 'Rush' Aviator Sunglasses | $10.00