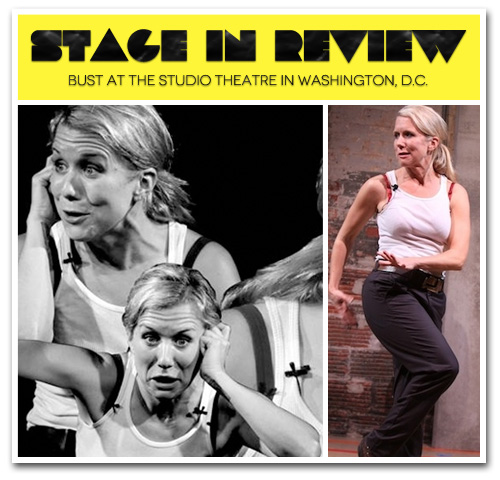 Lauren Weedman knows she's not perfect—and she wants you to laugh about it.
Her one-woman show, Bust, has all the witty punch lines of one-hour stand-up and the introspection of a woman who suddenly found herself living out an episode of The Twilight Zone.
In a play that is one part autobiographical and three parts comedy, Weedman shows us her life as a Hollywood-based mogul (not really), where she wheels and deals with agents, fashion editors and a best friend with an unholy fixation on rescuing abandoned puppies.
Bust opens with Weedman walking through the halls of the L.A. county prison—one of the most dangerous prisons in the nation—where she's beginning her first day as a volunteer for Beyond Bars, an organization that pairs volunteers with prison inmates. Weedman is given three woman inmates to talk to, and is instructed that she is there to act only as a sounding board, and not to supply personal information or get involved.
Weedman, obviously, fails at this within the first ten minutes and accidentally provides her address to one inmate, while promising another that she would "get her out."
| | |
| --- | --- |
| | |
| Lauren Weedman in Bust. Photo: Carol Pratt | |
Soon after, she gets a call from a Glamour  magazine fashion editor who had learned of a story about Weedman's time in college when she had lied about being raped to get attention. Weedman begrudgingly agrees to sell her story (for a whole lot of cash), and later finds herself dealing with the harsh aftermath from those who had read it.
There are many laughs to Bust from start to finish, such as the orientation scene for Beyond Bars where Weedman explains that she's there to "feel better herself," and her time working as a dancer for a Pepsi commercial for the money. Finally, there's a great sauna scene that has Weedman trying to talk to her best friend, Rachel about one of the prisoners as Rachel does yoga exercises naked.
Bust intelligently merges the superficial nature of Hollywood with the despairing truth about prison. Together, these superimposed realities serve as terrific fodder for Weedman, as she plays through each scene with the refined sense of a comic who understands the absurdity of her life.
Bust is apologetically funny, even as it weaves in its subtle commentary about prison life; and Weedman shows us that she is not afraid to have us laugh at her expense.
Bust is written by Lauren Weedman and directed by Allison Narver, and is playing at The Studio Theatre in Washington, D.C. from now until December 23.
---

Mei Tan is currently obsessed with lace-up booties, anything by Marc Jacobs, sleeping in until noon, and "winning."
All author posts