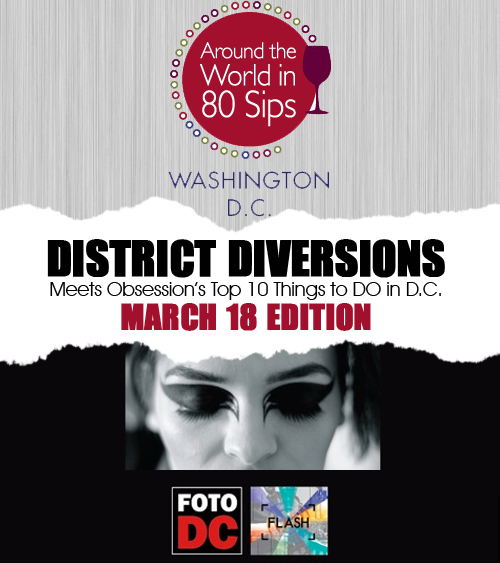 Meets Obsession's Top 10 DC-DO's

Tastings: Bottlenotes Around the World in 80 Sips: DC Edition
Hey wine lovers, get ready to enjoy the finest tasting experience SF has to offer!
Come taste wines from around the globe as Bottlenotes takes you Around the World in 80 Sips! Bottlenotes is the premier online wine community, a place where you can learn about, discuss and rate new wines. Join us and fellow San Francisco wine enthusiasts, and enjoy 80+ great wines plus artisanal cheese, charcuterie, chocolate, and much more!
Opening & Exhibit: FLASH Opening Party
Join FLASH for an Opening Party  for The Uncover/Discover Series exhibition celebrating 55 DC metro photographers.
FLASH is a month-long event created by FotoDC and sponsored by the Crystal City BID. Between March 17th and April 17th, 2011, the penthouse (12th & 13th Floors) of 2450 Crystal Drive in Arlington, VA will be filled with exciting photography shows and events. FLASH will encompass two curated photography exhibitions, a library of photography books, and a lounge for refreshments and discussion.

Opening Party: La Grande Fête de la Francophonie
Join the Embassy of France on Friday, March 18 from 7pm – 12am, for the Grande Fête, the crowning event of the Francophonie Festival – presenting culinary specialties and crafts of over 35 francophone nations. Representatives from Washington embassies, governments and institutions will be on hand to discuss traditions with participants.
Opening Exhibit: Fastidious Travelers by Jen Besemer opening at Dolcezza
Join The Fridge in Welcoming Visiting Artist Jen Besemer, March 18th – March 20th
Jen Besemer works with words, actions and images to expose hidden relationships (and discover new ones) between and within those media. "Misusing" text, processes and products to create camouflaged or hybrid forms, Jen comments on the entrenched systems of contemporary life and the unresolved contradictions they generate.
Music: Stranger Than Paradise & Audiology Present Digitaline LIVE
Digitaline is a live act project formed by the Swiss producers Laps (Laurent Bovey) and Gregorythme (Gregory Poncet), who work together in Lausanne and Berlin since 2001.
What began as a bit of fun between two friends turned into various long live sessions and club nights between Lausanne and Zurich, slowly bringing them closer to finding a sound of their own – music full of atmospheric detail, sometimes a little abstract and sometimes more narrative, but always deep grooves made for the club.
Their work became more serious in 2005, when they released their first EP ('Rubicube') on Cadenza, after they had given some of their tracks to Luciano. With the help of this new collaboration, Digitaline's music instantly got international recognition. In 2007, their first longplayer ('Anticlockwise') and another EP ('Honululu') came out. The next step was playing live gigs in places such as Panorama Bar, Mutek 2007, Movement (DEMF) 2007, Fusion Festival, Fabric, Rex Club and DC10.
After more then one year touring with their fully acclaimed deep techno live act, the duo went back to the studio end of 2008. Their studio collaboration went a step further with these two releases out beginning and end of summer 09 : Seeking Attention Ep on Zürich based label City Fox Records and Oz factor Ep on Cabanne's label Minibar From Paris. Both records go in the same direction into electronic dance music, deep grooves, concrete atmospheres, organic synthetizers and a bright sense of repetition.
Fashion: Art and Jewelry Show with Barbara Coleman and Ozlem Yildirim @ Caramel
Washington-based artist, designer and art dealer Barbara (Barbie) Coleman will present an exciting series of limited edition hand-tinted etchings by award-winning Slovakian artist, Katarina Vavrova and several original turn-of-the-century NOH Theatre Japanese Woodblock Prints by the famed Tsukioka Kogyo.
As an artist, Barbie lived, lectured and exhibited her art in South America in the 1970s. Traveling extensively, she assembled a massive collection of contemporary art and artifacts and, today, deals in Japanese art and Asian artifacts.  She's the go-to-gal for young collectors trying to find some art that's both fun and a good investment, too.  Barbie has a strong sense of design and can help you pull off a sophisticated, eclectic look that will add a touch of international flair to those big empty loft walls.
Ozlem Yildirim is a Jewelry Designer based in Washington DC. Originally from Turkey, her work has a certain middle eastern influence. She works mainly with gemstones and various metals that she brings back from her travels, making each piece unique, interesting and beautiful.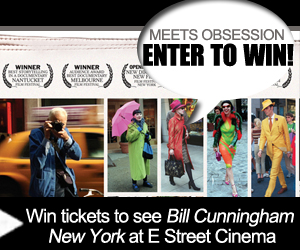 Theatre: A Trip to the Bountiful @ Roundhouse Theatre
Trapped in a cramped Houston apartment with her soft-spoken son and self-absorbed daughter-in-law, widow Carrie Watts dreams of returning to her home in the small Gulf Coast town of Bountiful, where she grew up and raised her own family. Fearing that she's an imposition and chafing under her daughter-in-law's watchful eye, she steals away with her latest pension check and heads home. The results are both brilliantly life-affirming and heartbreaking in one of legendary playwright Horton Foote's most beloved works.
Film: Tears of the Black Tiger @ Thai Film Week
Free Thai Embassy film screenings of popular Thai films of the past and present.
Theatre: Voices Underwater @ The National Conservatory for the Dramatic Arts
A storm rages outside. Emma and Franklin take refuge in the attic of an Alabama plantation house. As they explore the attic they are haunted by the spirits of a dark past – the daughter of a 1920's Klu Klux Klan leader and a wounded civil-war soldier. As time and space spin around them, the rain continues, the waters rise and the house begins to leak its secrets. Voices Underwater is an exquisite exploration of the ghosts that lurk just beneath the surface.
Performance: Charlyne Yi @ Arlington Cinema & Drafthouse
Charlyne Yi (born January 4, 1986) is a musician, writer, painter, and actress. Her performances do not always include joke-telling as in standup comedy; instead, she uses different tactics such as music, magic, games, and often audience participation. Her screenwriting debut, the feature film Paper Heart, won the Waldo Salt Screenwriting Award at the 2009 Sundance Film Festival. She as appeared on Knocked Up, Paper Heart, Semi-Pro, Craig Ferguson, Jimmy Fallon and Conan.
__________________________________________________________
For editorial consideration, please submit your event here: