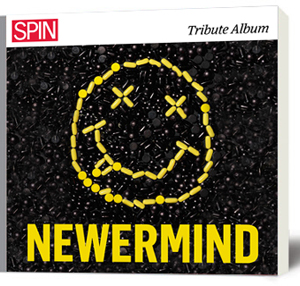 The opening riff to "Smells Like Teen Spirit" is as epic as it is iconic. It's one of those rare songs that seem to fully encompass a feeling, a movement and an entire music genre.
This fall, the album that delivered it, Nevermind is turning twenty years old — in case you didn't feel old enough already.
As such, the celebrated Nirvana album will be re-released in September with unreleased recordings, b-sides, BBC radio appearances, an unreleased concert DVD and much more. But if you can't wait until then for some new Nirvana tracks, Spin magazine is offering you an updated version of the classic album.
Simply go and "like" their page on Facebook, and you'll get a free download of a Nirvana tribute album, called Newermind. The album features some of Kurt Cobain's personal favorites, like the Meat Puppets (who tackled "Smells Like Teen Spirit" and opted for an acoustic version) and the Vaselines (whose rendition of "Lithium" was haunting and bare).
The new album is a marvelous tribute to the original. Though Nirvana was a thoroughly grunge rock suit, there's something refreshing about hearing each song translated through different genres.
"In Bloom" is covered by Butch Walker and the Black Widows. Rather than maintaining its morose and sinister feel, Butch purrs each lyric with a seemingly sunny disposition. Charles Bradley and the Menahan Street Band sang "Stay Away," and infused the track with funk and a heartened soul.
Some artists who opted to mimic the original style of the songs they covered were JEFF the Brotherhood. The garage rockers did "Something In the Way," a song that was rumored to be the grim and true tale of Cobain when he was homeless and living under a bridge. However, they couldn't resist adding the occasional, distorted electric guitar solos here and there.
Experimental art-pop chanteuse Amanda Palmer sprinkles her cabaret stylings over "Polly," while Jessica Lea Mayfield turns "Lounge Act" into a melancholy folk number.
Do yourself a favor and download the album here. Though it's nothing compared to the original, it should tie you over until the re-release this September.
---

Yohana Desta is currently obsessed with Butch Cassidy and the Sundance
Kid, everything Dave Grohl does, and listening to Arctic Monkeys on
repeat.
All author posts