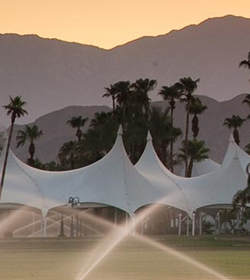 Coachella Valley Music and Arts Festival has just announced the extension of their 2012 event over two weekends in April rather than the usual one.
On April 13-15 and April 20-22 at the Empire Polo Grounds in Indio, California, fans will enjoy two identical lineups. Heads of the festival are trying their best to accommodate the mounting popularity of Coachella after the 2011 festival sold out in only six days.
The festival was quoted as saying, "We know many of you were unable to attend this year's festival because passes sold out much sooner than anticipated. We were truly surprised by the overwhelming response and remain honored by your passion and enthusiasm. We also know some of you purchased through non legitimate sources and were inconvenienced, gouged or totally scammed. We hope that these changes will give everyone the opportunity to purchase directly from Coachella.com,"
This will be the 13th year for the music festival, and it is getting bigger and better each year. These changes are reflected in steep ticket costs. $269 is the going price for standard weekend passes.
Tickets will go on sale Friday, June 3, 2011 at 10:00 a.m. until Friday, June 10th, 2011 at 10:00 p.m. A Coachella payment plan is only applicable to pre-sale customers for 10% down and 8 equal monthly payments.
Tags:
Coachella
,
Coachella Valley Music and Arts Festival