These days a film is never just a film. The marriage of movies and music is nothing new, yet music, coupled with a motion picture, has the power to make or break it.
While some fall short, others have carried their films to success. Here is a list of a few soundtracks that deserve praise for effortlessly complimenting their movie counterparts.
Garden State
The soundtrack to this quirky dramedy garnered almost as much attention as the film itself.
Compiled by Zach Braff, the actor who also plays the lead in the picture, the soundtrack won the 2004 Grammy Award for Best Compilations Soundtrack for a Motion Picture.
This 13-track collection of ambient, introspective melodies serves as the perfect background not only for the celebrated film but for life as well.
Track List
1. "Don't Panic" — Coldplay
2. "Caring is Creepy" — The Shins
3. "In the Waiting Line" — Zero 7
4. "New Slang" — The Shins
5. "I Just Don't Think I'll Get Over You" — Colin Hay
6. "Blue Eyes" — Cary Brothers
7. "Fair" — Remy Zero
8. "One of These Things First" — Nick Drake
9. "Lebanese Blonde" — Thievery Corporation
10. "The Only Living Boy In New York" — Simon & Garfunkel
11. "Such Great Heights" — Iron and Wine
12. "Let Go" — Frou Frou
13. "Winding Road" — Bonnie Somerville
Twilight Saga (ALL OF THEM)
Roll your eyes if you want, but regardless of how overrated the vampire-centric culture of today may be, the Twilight soundtracks serve as a breading ground of original works by some of today's greatest indie artists.
Musicians such as The Dead Weather, Florence and the Machine, Sia, The Black Key", and Band of Skulls, have been featured on the albums for all three feature films.
With a trifecta of highly successful soundtracks under Twilight's belt, the next two surely won't disappoint.
Track List for Twilight Eclipse
1. "Eclipse (All Yours)" — Metric
2. "Neutron Star Collision (Love Is Forever)" — Muse
3. "Ours" — The Bravery
4. "Heavy in Your Arms" — Florence + The Machine
5.  "My Love" — Sia
6.  "Atlas" — Fanfarlo
7. "Chop and Change" — The Black Keys
8. "Rolling In on a Burning Tire" — The Dead Weather
9. "Let's Get Lost" — Beck and Bat For Lashes
10. "Jonathan Low" — Vampire Weekend
11.  "With You in My Head (featuring The Black Angels)" — UNKLE
12. "A Million Miles an Hour" — Eastern Conference Champions
13. "Life on Earth" — Band Of Horses
14. "What Part of Forever" — Cee-Lo Green
15. "Jacob's Theme" — Howard Shore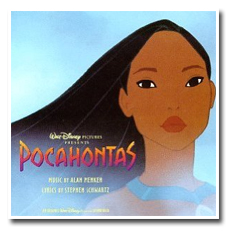 Pocahontas
A personal childhood favorite, the score for this iconic Disney film has been passionately belted at the tops of the lungs of little girls all over the world.
A classic in every sense of the word, Pocahontas has proven that even animated films can have substance.
For decades this film and its music have sojourned enchanting generations of children and reminding us all to Listen with Our Hearts.
Track List
1. "The Virginia Company" — Chorus
2. "Ship at Sea" (Score)
3. "The Virginia Company (Reprise)" — Mel Gibson & Chorus
4. "Steady as the Beating Drum (Main Title)" — Chorus
5. "Steady as the Beating Drum (Reprise)" — Jim Cummings
6. "Just Around the Riverbend" — Judy Kuhn
7. "Grandmother Willow" (Score)
8. "Listen with Your Heart I" — Linda Hunt & Bobbi Page
9. "Mine, Mine, Mine" — David Ogden Stiers, Mel Gibson & Chorus
10. "Listen with Your Heart II" — Linda Hunt & Bobbi Page
11. "Colors of the Wind" — Judy Kuhn
12. "Savages (Part 1)" — David Ogden Stiers, Jim Cummings &
13. "Savages (Part 2)" — Judy Kuhn, David Ogden Stiers, Jim Cummings &
14. "I'll Never See Him Again" (Score)
Side Two
15. "Pocahontas (Instrumental)"
16. "Council Meeting" (Score)
17. "Percy's Bath" (Score)
18. "River's Edge" (Score)
19. "Skirmish" (Score)
20. "Getting Acquainted" (Score)
21. "Ratcliffe's Plan" (Score)
22. "Picking Corn" (Score)
23. "The Warriors Arrive" (Score)
24. "John Smith Sneaks Out" (Score)
25. "Execution" (Score)
26. "Farewell" (Score)
27. "Colors of the Wind (End Title)" — Vanessa Williams
28. "If I Never Knew You (End Title)" — Jon Secada & Shanice
Submarine
This work served as the debut for, not only, filmmaker Robert Ayoade, but also as Alex Turners first solo album apart from the wildly successful Brit rockers The Arctic Monkeys.
His boyish vocals and the sweet and somewhat nonsensical lyricism serves as the perfect backdrop for this coming of age story based on a novel by Joe Dunthorne.
Track List
1. Stuck On The Puzzle (Intro) — Alex Turner
2. Hiding Tonight — Alex Turner
3. Glass In The Park — Alex Turner
4. It's Hard To Get Around The Wind — Alex Turner
5. Stuck On The Puzzle — Alex Turner
6. Piledriver Waltz — Alex Turner
The Sound of Music
What can I say about The Sound of Music? This film has continued to set the bar for musical film since its release in 1965.
Its innocence and effervescence carries seamlessly throughout the entire movie, captivating audiences of all ages.
From "Sixteen Going on Seventeen" to "Do-Re-Mi", Maria, the Captain, and the kids showed us all how beautiful The Sound of Music truly is.
1. "Prelude / The Sound Of Music" — Julie Andrews;Irwin Kostal
2. "Overture / Preludium (Dixit Dominus)" — Irwin Kostal;Anna Lee;Portia Nelson;Marni Nixon;Evadne Baker
3. "Morning Hymn / Alleluia" — Anna Lee;Portia Nelson;Marni Nixon;Evadne Baker
4. "Maria" — Evadne Baker;Anna Lee;Portia Nelson;Marni Nixon
5. "I Have Confidence" — Julie Andrews
6. "Sixteen Going On Seventeen" — Charmian Carr;Dan Truhitte
7. "My Favorite Things" — Julie Andrews
8. "Do-Re-Mi" — Julie Andrews;Charmian Carr;Heather Menzies;Nicholas Hammond;Duane Chase;Angela Cartwright;Kym Karath;Debbie Turner
9. "The Sound Of Music" — Charmian Carr;Angela Cartwright;Duane Chase;Nicholas Hammond;Kym Karath;Bill Lee;Heather Menzies;Debbie Turner
1o. "The Lonely Goatherd" — Julie Andrews;Charmian Carr;Angela Cartwright;Duane Chase;Nicholas Hammond;Kym Karath;Heather Menzies;Debbie Turner
11. "So Long, Farewell" — Charmian Carr;Angela Cartwright;Duane Chase;Nicholas Hammond;Kym Karath;Heather Menzies;Debbie Turner
12. "Climb Ev'ry Mountain" — Peggy Wood
13. "Processional And Maria" — Anna Lee;Portia Nelson;Marni Nixon;Evadne Baker
14. "Edelweiss" — Julie Andrews;Bill Lee;Chorus;Charmian Carr;Angela Cartwright;Duane Chase;Nicholas Hammond;Kym Karath;Heather Menzies;Debbie Turner
15. "Climb Ev'ry Mountain" — Chorus and Orchestra
Tags:
Garden State
,
Pocahontas
,
Submarine
,
The Sound of Music
,
Twilight