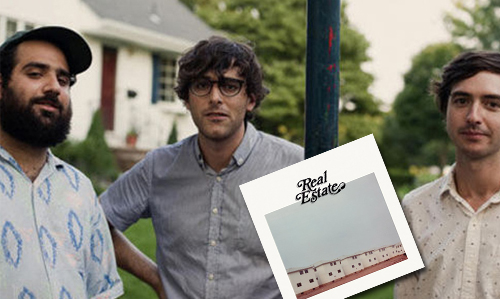 After an exhausting summer of barbeques, swimming holes and long hot days, the coming of fall is a welcome relief.
Leaves change colors, and with that metamorphosis may come to us a reflection of a season's past.
Autumn, like summer, has its own emotional complexities, and indie rock band, Real Estate's newest album, Days, is seemingly written for those who agree. Days is truly a beautiful and complicated record. It is not without its faults, but it captures the spirit of fall in a way few records have done before.
Formed by group of childhood friends from Ridgewood, New Jersey, Real Estate was pegged as a surf rock band.
Their debut self-titled LP, released in 2009 on Woodsist, was replete with bright chords and a carefree wistfulness. Praise from independent music publications piled up shortly thereafter, and venerable British label, Domino Recording Company commissioned the band's next album. The big label provided Real Estate with more resources and improved production value to showcase their tracks. Compared to their debut album, Days is far more complex and multifaceted.
Real Estate's sound on Days can certainly be described as "pop," but it is clear that the band has departed from their psychedelic, lo-fi sounds seen in their first album.
Days show a maturity in lyrics, instrumentation and emotional density. The album's opening track, "Easy," is a toe-tapping and head-bobbing number; it may evoke memories of running through grassy fields even before vocalist Martin Courtney sings.
In "Green Aisles," the tempo slows to a pace familiar to their fans, however, the crisp, effect-free guitars echo a different disposition. Lines such as "All those wasted miles/ All those aimless drives through green aisles/ Our careless lifestyle, it was not so unwise" stand out, and are quite endearing when sung on top of such majestic instrumentation.
| | |
| --- | --- |
| | |
| | Real Estate – Green Aisles |
Days draws inspiration from other bands. "Out Of Tune" is a track that confirms the derivative nature of Real Estate's sound, as it largely draws from indie band, The Shins.
Similarly, the track "Younger Than Yesterday" begins with a riff that Neil Young may have written for Harvest Moon. Still, it is clear from Days that Real Estate's sound is anchored by their own self-identity.
The next time you hear the leaves crunching underneath your steps, and feel the introspection of fall , consider throwing on Days. It is a stunning album with lyrics that are connotative, complex and happy-go-lucky.
Tags:
Real Estate'