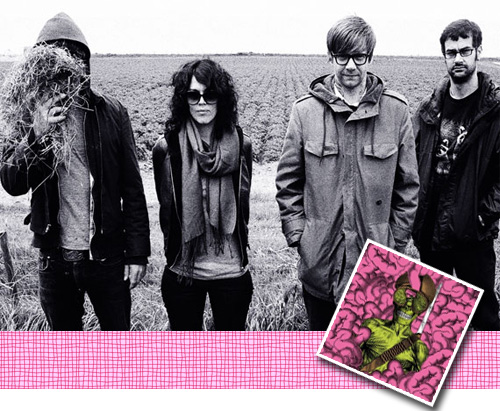 Anyone who was a fan of John Dwyer's storied garage-punk group, Coachwhips eagerly awaited the first release of his solo work as Thee Oh Sees. What began as an outlet for the frontman's more psychedelic, and at times, discombobulated musical tendencies has clearly evolved. His album, Castlemania (2011) was filled with woodwind instrumentation, subdued vocals and enough trippy-ness to make it feel like that one weird night in college all over again.
However, Dwyer's latest album, Carrion Crawler/The Dream is not that.
This record is about riotous rock 'n' roll; and "Carrion Crawler" demonstrates that the band has extended itself beyond the talents of Dwyer. Lars Finberg is featured as the group's second drummer (which should indicate just how "rock" this record is).
There are traditional guitar hooks aplenty, and these often devolve into extended jam sessions that showcase the band's harmony. Their track, "The Dream" begins with a guitar intro that may prepare listeners to hear a song that The Who might have written; and what follows is a twangy, garage track that steams ahead like a runaway freight train.
| | |
| --- | --- |
| | |
|  Opposition By Thee Oh Sees | |
After several minutes, the jamming sets in. Most of the songs follow this format, with exception of the track, "Opposition," which clocks in at a brief 1:29, and breaks up the flow of the album with a DEVO-inspired jam that doesn't lose the band's edge.
If you started listening to Carrion Crawler/The Dream with your arms skeptically folded, expect to be jumping around your bedroom and ready for the afterparty by the record's end.
Tags:
Coachwhips
,
John Dwyer
,
Lars Finberg
,
Thee Oh Sees