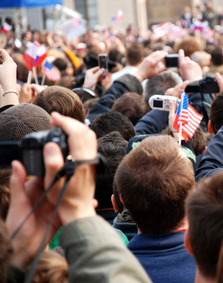 It looks like iPhone users are going to have to kiss some of their camera capabilities goodbye.
According to sources, Apple is working on software that will disable the iPhone from recording footage while at concerts.
Reportedly, Apple filed a patent application about 18 months ago for highly sophisticated technology that would cause the camera to shut down during concerts.
Once an iPhone user tries to record a concert, infra-red sensors installed at the music venue will turn off the camera. However, this won't affect any of the phone's other capabilities, such as texting, making phone calls or taking pictures.
Considering the stronghold that Apple has on the music industry with programs like iTunes, it was unclear at first why the company would care about recorded concert footage.
However, companies who own the rights to recording concert footage may be displeased with the fact that iPhone users stream the videos they took online, on sites like YouTube.  Taking away the option to record concerts will strengthen Apple's business relationship with many of these companies and perhaps serve as an extra source of revenue.
There's no word yet on when the costly development will be complete; Apple still has not released an official comment.
So for now, you can still troll YouTube to your heart's delight to find crappy footage of that concert you missed last week. There's no app for that.
Tags:
Apple
,
iphone