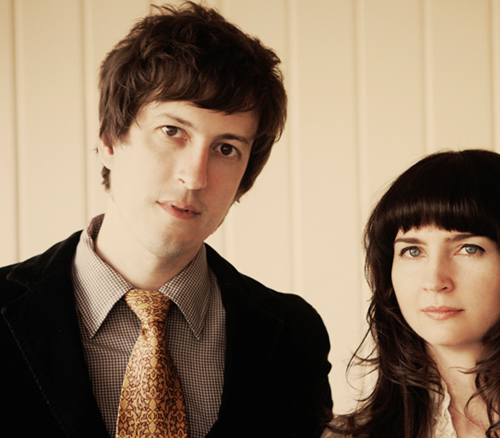 Andrew Kenny, who is the singer/songwriter and bassist of the indie rock band, The Wooden Birds, creates music that is alive.
Producing music that is never stagnant, the Wooden Birds latest album, Two Matchsticks brings not only the same eclectic and catchy vibe from its debut record, Magnolia but a level of maturity that gives way to folksy pop melodies that leaves you stirred.
At the close of Wooden Bird's whirlwind North American tour, I was lucky enough to discuss with Kenny his music, his inspirations, and of course, his (somewhat odd but equally charming) obsessions.
Meets Obsession: How would you describe Two Matchsticks? And how does the sound of this album differ from Magnolia?
Andrew Kenny: Two Matchsticks is full of simple, tidy, rhythm and vocal intensive, country / folk / rock influenced pop songs and I would say the same thing about the songs on the first album, Magnolia as well.
The biggest difference [however] isn't in direction, but in the realization of the original intention. The Wooden Birds were invented to record Magnolia and that album was written to be the collection of songs that the Wooden Birds would play. Each was created to make the other real, and they were both merely a product of imagination until our first show in March of 2009.
But over the process of supporting the release of "Magnolia" in 2009 and 2010, something really wonderful happened. The Wooden Birds turned into a live band that had strengths of its own beyond the elements on the album. And so Two Matchsticks was written to take advantage of those strengths. Nearly every song on "Two Matchsticks" was taken on the road for weeks and allowed to mature in that environment before it was translated back in the the acoustic guitar and percussion heavy recorded sound of the [band].
Meets Obsession: You co-founded the indie rock band, American Analog Set. What elements have you carried from your work there, and what do you want to do (or are doing) differently with the Wooden Birds?
Andrew Kenny: Musically it was important to make the Wooden Birds a different animal, which is a big reason why I play bass…instead of guitar. But we didn't want to define this band only by saying it's what another band isn't. We made the Wooden Birds very vocal intensive. We made many of the songs narrative and gave them a more traditional verse and chorus structure and then challenged ourselves to make that interesting. We came in with a machete and hacked out parts that weren't necessary for space or balance within the song and left the parts that stood up to our hacking. It's not such a bad to thing do if you want to have a tidy little pop band, but all these things make the Wooden Birds stand apart from the AmAnSet.
Meets Obsession: Who are your greatest musical inspirations, and what current artists do you listen to. Do you find any inspiration in these current artists?
Andrew Kenny: I think the most inspiring and the most humbling albums in my collection are the last two…releases, Spirit of Eden and Laughing Stock [from the band, Talk Talk]. I don't hear them echoed in the Wooden Birds necessarily but their influence is there in everything I've ever done. Chris Leo is a huge influence as well. More recently, I'm amazed and impressed with how focused the last two Phoenix albums are. The songs are great, sure, but these albums sound more like they were chiseled out of stone than recorded…Little Dragon, that new album is their best. That last Rick Ross full length has some real moments. But c'mon, it's Rick Ross. He never disappoints. Junip's "Fields" has been a go-to listen for me for a while now.
Meets Obsession: If it wasn't music, what do you think you'd be doing?
Andrew Kenny: Biologist. Bewm. No question. It's that "other" thing in my life that I love.
Meets Obsession: What are you currently obsessed with?
Arriving places on time. Flip flops. The 4th button from the top on my shirts. Doing a pull up. Keeping a gasoline log. Macaroons. Salads. Videotaping myself loudly and violently dunking a basketball on the goals at the elementary school around the way from my house because they're like 5 1/2 feet tall for crying out loud.
Watch  The Wooden Birds Tour Diary Vol II below:
The Wooden Birds Tour Diary Vol II from Sheila Kenny on Vimeo.
Tags:
Andrew Kenny
,
Five Questions
,
Wooden Birds