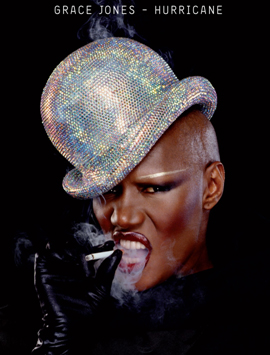 Long before the shock jock tactics of artists like Lady Gaga and Bjork, there was the inimitable Grace Jones.
Known for her androgynous features, sky-high flat top and over the top outfits, the Jamaican-born singer rose to prominence in the 1980s. She frequented famed discotheque, Studio 54, became a muse for Andy Warhol and served as style inspiration for many female singers to come.
She also topped the charts with her signature blend of New-Wave pop and synth-laden dance numbers like "Slave to the Rhythm" and "I'm Not Perfect (But I'm Perfect For You).
Now at the ripe age of 63, Jones is ready to release new material.
The new album is titled "Hurricane V2 (In Dub)" and is expected to drop in the U.S. on September 6.
It is a rerelease of Jones' 2008 album "Hurricane," and is entirely in dub. It is produced by Ivor Guest and will also include contributions from ambient mastermind, Brian Eno.
Where the original album was a bit darker and less poppy than Jones' previous releases, the dub version is sure to be perfect dancefloor antidote.
Listen to the track "Sunset, Sunrise" here!
---

Yohana Desta is currently obsessed with Butch Cassidy and the Sundance
Kid, everything Dave Grohl does, and listening to Arctic Monkeys on
repeat.
All author posts