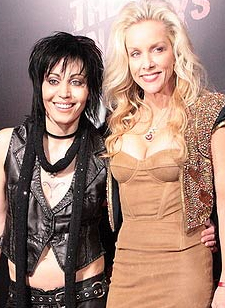 It seems Joan Jett and Cherie Currie of The Runaways have joined forces once more, and this time it's not to make music, but to stop it.
This past Thursday, both parties filed a joint suit, attempting to halt distribution of Main Man Records' Runaways Tribute Album "Take It or Leave It".
The album features artists such as The Donnas and The Dandy Warhols, covering The Runaways original works.
Royalty fees generally apply to albums that incorporate covers, so permission from the original artists is not required.
Yet, Currie and Jett claim that the album is in "violation of their likenesses". Although, recent legal proceedings have left the albums late June release date up in the air, Main Man Records and all the artists featured are still hopeful that the record will be unaffected.
Tags:
Cherie Currie
,
Joan Jett
,
Main Man Records
,
Take It or Leave It
,
The Runaways