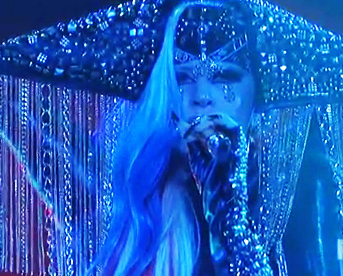 Who else completely lost their minds when Lady Gaga appeared on stage this week at the American Idol finale?
Despite her busy schedule promoting her new Born This Way album, our Mama monster has graced American Idol with her presence two times this season! And did so in typical Gaga fashion.
First serving as a mentor, she sported a pair of Void shoes with heels that so closely resembled male genitalia that they had to use the American Idol bubble to block them out. And, last night, she appeared again on a giant rock-like platform/piano dressed as a warrior queen singing her heart out to the hit single Edge of Glory doing what she does best: pushing the limits.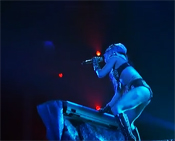 Always one for giant head gear, she first appeared bathed in deep blue lights, wearing what looked like a very heavy bejeweled headdress with dangling chains, paired with a long, flowing cape. She resembled a cross breed between an Egyptian princess and a Geisha girl. But once the song kicked in, she ditched both and stripped down to a skimpy, and sexy, bikini dappled with all kinds of sparkles and studs that twinkled under the sultry lights. She still resembled a biker-esque Egyptian princess, with her gold, sparkly bandana wrapped around her head, and matching Miriam Salat "Glamour" earrings that were so huge they covered her shoulders.
Shortly after the risque performance in which she simulated having sex and then took a diving leap off the edge with her "lover" at the end, her stylist Nicola Formichetti blogged that the outfit was by none other than the Haus of Gaga.
Ignoring the fact that she probably scarred many a small child, the pop goddess was absolutely stunning!
And while some would call it strange, her Little Monsters saw her become the warrior queen she has been striving to be. She looked ready for battle last night. Like a true warrior fighting for her passion and a free life.
---
Rhi Strayer is currently obsessed with Jeffrey Campbell shoes, sparkles, studs, and anything having to do with Lady Gaga.
All author posts