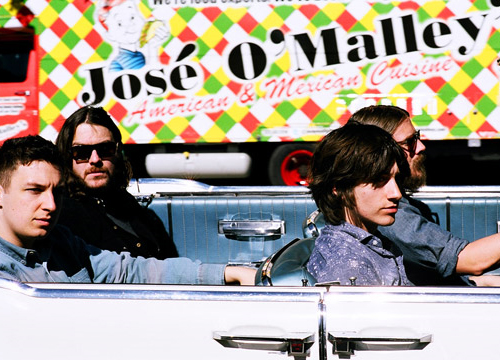 Brit rockers Arctic Monkeys have been keeping fans on edge with the upcoming release of their fourth studio album "Suck It and See." They have released two songs thus far — the repetitive "Brick By Brick" and the grungy and psychedelic "Don't Sit Down Cause I've Moved Your Chair." Both singles have a humorous tinge to them, reverting back to the Monkeys' cheeky lyrics before 2009's dark and retro "Humbug."
On May 11, "Reckless Serenade" was leaked and has since been posted on blogs and sites like YouTube with fans dying to get a fix of anything off the new album.
The song has an irresistible bassline and melds wonderfully with the '60s vibe that "Brick By Brick" delivered. Turner's voice is heart-melting, singing carefree lyrics like "Illuminations on a rainy day/When she walks her footsteps sing/A reckless serenade."
It's a complete departure from the band's furiously fast and dance-worthy debut album "Whatever People Say I Am, That's What I'm Not." But it certainly is a welcome change.
Listen to the deliriously wonderful single here!
---

Yohana Desta is currently obsessed with Butch Cassidy and the Sundance
Kid, everything Dave Grohl does, and listening to Arctic Monkeys on
repeat.
All author posts