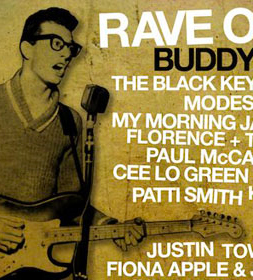 How do you adequately praise the artist who is responsible for the transformation of rock'n'roll?
Buddy Holly was never just a musician — he established the basic format of rock'n'roll (bass, two guitars, and drums), wrote and produced all of his own music, and started the trend of musicians wearing their glasses on stage.
The Beatles named themselves in honor of Buddy Holly's band, the Crickets. His music has been covered by everyone from Weezer (whose lead singer, Rivers Cuomo, dresses like a 21st century Holly knockoff — but in a sweet, homage-paying kind of way) to Bruce Springsteen to the Grateful Dead. Bands like Nirvana and the Red Hot Chili Peppers have even emulated Holly's personal style in music videos — complete with suit and thick horn-rimmed glasses.
On June 28th, some of the biggest names in music joined forces to collaborate on a tribute album titled "Rave On Buddy Holly."
Among the contributors are Paul McCartney (who's often cited Holly as a favorite), Julian Casablancas (The Strokes), Florence and the Machine, the Black Keys, Lou Reed, Patti Smith, Cee Lo Green, and many more. Each artist has tackled a Holly song and put their own spin on it, breathing new life into classic tunes like "Not Fade Away," "Rave On," and "Peggy Sue."
It's difficult to put into words Holly's far-reaching influence into rock music.
He touched every vein every genre, with artists from Keith Richards to Bob Dylan citing him as a major influence.
But, as often is the case with many of rock'n'roll's greatest musicians, Holly passed too soon. He died at the age of 22 in 1959, in a plane crash with fellow musicians Ritchie Valens and J.P. "The Big Bopper" Richardson — considering how important his music would become, this date is commonly referred to as "The Day the Music Died."
Since it's simply too hard to pick a standout song amongst so many different styles on this album, here's a sampling of a few of the best covers.
Listen below for Cee Lo's take on "You're So Square, Baby I Don't Care."
Listen below for Florence and the Machine's take on "Not Fade Away."
Listen below for Julian Casablancas' take on "Rave On."
Tags:
Buddy Holly
,
Cee Lo Green
,
Florence and the Machine
,
Julian Casablancas
,
Lou Reed
,
Patti Smith
,
Paul McCartney
,
RAVE ON
,
the Black Keys