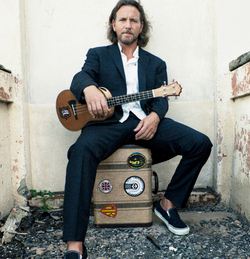 The ephemeral Eddie Vedder can do no wrong.
Very rarely in today's musical condition do we see the likes of Vedder's poignant grumbles, soothing guitar rifts, and meditative lyrics in one place.
His first single off Ukulele Songs, "Longing to Belong" does just this.
The captivating strumming of Vedder's sacred instrument, the ukulele, encompasses the core of his solo endeavor. The track is lovely, obscure, genuine, and powerful.
With a voice made of honey and of soul, Eddie exudes raw creative passion in a fashion quite different from Pearl Jam's mighty melodious reverberations of rhythm and rhyme. Yet, it proves just as effective. "Longing to Belong" is simple yet contains a prevailing degree of emotion and dedication to craft.
His second full-length solo album entitled Ukulele Songs was released on May 31st through Pearl's Jam's Monkeywrench Records. It was directed by Christoph Green and Fugazi's Brendan Canty. The release is to be followed by a solo tour by the music prodigy.
Eddie Vedder – Longing To Belong by MMMusic
Tags:
Eddie Vedder
,
Longing to Belong
,
Monkeywrench Records
,
Pearl Jam