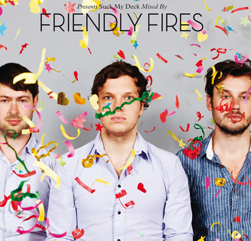 The British trio Friendly Fires has just made a much-anticipated return with their second album "Pala", which dropped this morning. Named after the famed dystopian novel by Aldous Huxley, if the first single "Live Those Days Tonight" is any indication, the rest of the album shouldn't disappoint.
While the song stays true to the fun dance punk roots we fell in love with, in songs like "Kiss of Life" and "Strobe", "Live Those Days Tonight"  shows a considerable amount of growth and maturation without being pretentious, which would be very easy given the boys' prep-school meets funk appeal.
"Live Those Days Tonight" is not something you want to listen to if you're in the mood for a dark and brooding tune, and if you're in the market for lyrics that speak to your soul, maybe you'll want to look somewhere else. That being said, if you want something to dance to, or a song that will put a smile on your face without having to think too hard, take a listen below.
Friendly Fires – Live Those Days Tonight
Tags:
Friendly Fires