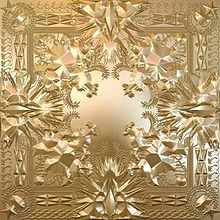 Perhaps the most anticipated album drop of the year was Jay-Z and Kanye West's collaboration, Watch the Throne. These two rappers are at the top of their game and their collaborative album couldn't have come at a better time.
West's last album was the critically acclaimed and best-selling My Beautiful Dark Twisted Fantsy. Jay-Z's last album, The Blueprint 3 was also a huge success.
The hip-hop heavyweights turned the music world on its ear when they announced that they would pair up for a joint album. Their album title itself is quite fitting, considering their king-size success.
After releasing Throne's first single "H-A-M" in January, fans have waited eagerly. The most recent track, "Otis" was what West referred to as "luxury rap." The song brilliantly samples Otis Redding's classic song, "Try a Little Tenderness" that is weaved with hip hop tracks to create an upbeat summer anthem for the music masses.
The music video for "Otis" was released last Thursday and features West and Jay-Z destroying a Maybach, then driving around in it, while four models cheerfully sit in the back. The video was directed by Spike Jonze ("Where the Wild Things Are") and features a cameo from "Parks and Recreation" funnyman, Aziz Ansari.
While Throne is full of nearly perfect tracks, one of the best songs is "Why I Love You," a track that speaks to the last days of summer. The synth heavy number is hazy and heavy, and surprisingly uplifting, featuring a light dubstep chorus full of coos — a sample from French house music duo, Cassius. The song also features Mr. Hudson, who was the supporting vocals on Jay-Z's track, "Forever Young."
"Why I Love You" mainly features Jay-Z, simply killing the game with each track he spits.
Why I Love You – Jay-Z & Kanye West by worldhiphopfirst
Otis feat. Otis Redding by watchthethrone
Tags:
Cassius
,
Jay-Z
,
Kanye West
,
Watch the Throne
,
Why I Love You