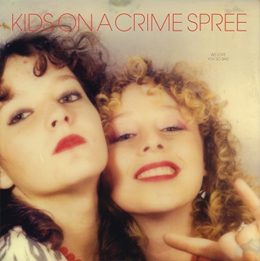 With many bands mass producing a similar sound, it seems, at times, that the word "alternative" is applied more and more loosely in the genre of alt-rock. However, there is one band that almost earns the "alternative" label—Kids on a Crime Spree.
Their recent album "We Love You So Bad" is a mixture of beachy lo-fi tracks with a charming retro kick. This album, in its entirety, though not exactly spectacular, has a few gems. In particular, the track "It's In My Blood" seems to encapsulate everything good about the record. Catchy and sweet, the song is undeniably poppy. The hook catches you right from the beginning, and forces you to tap your foot, bop your head, or perform some equally embarrassing spasm of enjoyment.
The riff is classic, lazy, and not quite psychedelic, but almost there. While highly repetitive, just when you think you get it, the final moments of the song catch you off guard by ditching words altogether and truly hooking you in with an unexpected and glorious climax.
The charm of "It's in my blood" is in how it simply doesn't care. It doesn't force its sound—rather, it's one of those songs that seem to seep into you, 'til you can feel it running through your veins. And when you hear that final chord bellow, you realize just how much the song truly earns its title.
Kids On A Crime Spree – It's In My Blood. by LitePanda
Tags:
It's In My Blood
,
Kids on a Crime Spree
,
LISTEN
,
We Love You So Bad