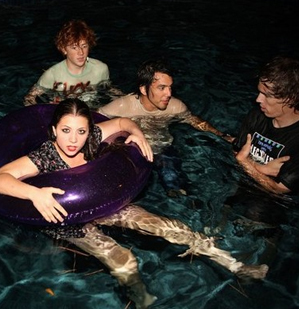 I would recommend listening to "Kill the Light" before I tell you how old this exquisite vocalist is.
As soon as she opens her mouth, it becomes abundantly clear that her musical prowess, the maturity in her vocals, lyrics, and live performances literally transcend her 16 years on earth.
As the youthful Los Angeles local and lead singer of up and coming band Kitten, Chloe Chaidez contains immense soul for someone still in high school, resembling the genesis of Paramore's highly gifted Hayley Williams.
Starting her first band at the mere age of 10, Chloe's already shared the stage with Young the Giant and Midlake, rocked South by Southwest, and is currently opening for Brother on their US tour. Chloe brings a pure sincerity to rock n' roll but loses none of her intensity or edge in doing so.
On her track, "Kill the Light" from Kitten's debut album Sunday School, she exhibits immense heart and accustomed voluble range while belting energetically intimate notes in true Cat Power fashion.
At times, she even unpredictably veers into protopunk Iggy Pop territory, keeping her musical method truly unique.
"Maybe on a Sunday night/pop music in an acid light/I remember when you sister died/slow motion on a satellite."
Fragile yet powerful, profound yet acutely attuned in pop tendencies, young in age but old in soul and talent, Kitten's Chloe Chaidez is an all singing, all dancing, all head-banging music prodigy to look out for.