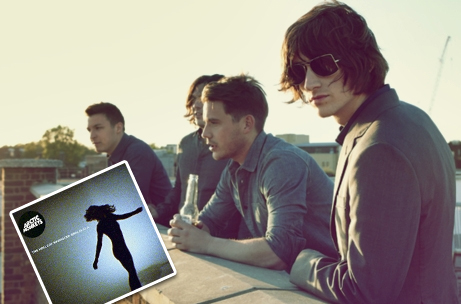 Fans of British indie rock band, Arctic Monkeys will get a treat when they order the 7" vinyl release of their second single, "The Hellcat Spangled Shalalala."
The vinyl b-side includes a special song titled "Little Illusion Machine (Wirral Riddler)."
The song features vocals from Miles Kane, of Brit band, the Rascals, and Alex Turner's side project, the Last Shadow Puppets. The backing band is credited as the Death Ramps — but true fans know that this is merely the Monkeys' alter ego.
The song is a wicked and shred worthy number, which somehow fits perfectly with Kane's vintage, Northern English brogue. It features a heavily distorted guitar that sees its fair share of solos, along with dark bass strums, and cacophonous drum beats.
The single is a heavy contrast from the Monkeys' recently released album, "Suck It and See," which was melodious and light. It is also a different sound for Kane who just released a solo album, "Colour of the Trap," which was gloriously retro and 60s rock inspired.
If you're a fan of either the Monkeys or Kane, you'll be delightfully surprised by the track.
Take a listen below:
---

Yohana Desta is currently obsessed with Butch Cassidy and the Sundance
Kid, everything Dave Grohl does, and listening to Arctic Monkeys on
repeat.
All author posts