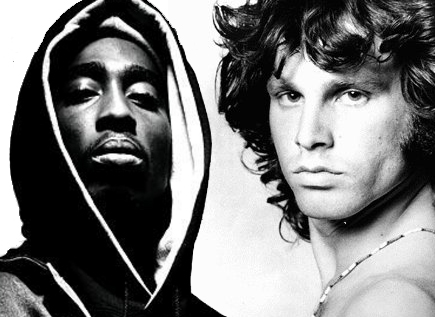 It's clear that mainstream music is steering towards the remix or the mashup.
In this case, remixes combine different sounds from the past, present and future into a spastic musical symphony of sorts.
You might not think that Jim Morrison of the mythic Doors and 2pac have anything in common, but that's just the essence of remixes—they bring different genres, different strives, and different times together.
The bone chilling remix by KMT titled 'Do you believe in the end', melds the rhythmic melodies of the lizard king and the soft yet heartrending raps of the immortal 2pac. The song cleverly demonstrates what magic would probably occur if these two quintessential music men came together in one passionately tuneful endeavor.
Jim was a man who embraced the chaos in the world and often fueled the chaos. For him, the lack of control, the unexplainable, and the poetic prophesy of the rejection of normalcy was just part of the overzealous beauty in the world.
2pac on the other hand was a rapper who not only sang but infused commanding beats draped in political and social commentary into the mainstream.
They both died young. They both influenced the dynamic of their respective artistic realms and they both proved themselves legacies in life and in unsightly death.
The song is powerful, haunting, and spirited, bringing not only the two tracks, but rather, the two musicians in an impossibility of time and space.
It raises harmonious icons from the dead and makes you feel like you're witnessing some sort of auditory part of musical history.
Because I'm sure that if Jim and Tupac ever got together to create music, it would be epic and sound something like this…