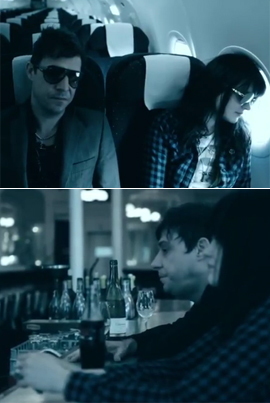 When The Kills released their album "Blood Pressures" this past April, it seemed that the world stopped to listen.
Reaching top ten on the charts in Europe, and top fifty in the States, this kind of stellar success for an independent British band in the US is almost unheard of. While fans of the gritty twosome received their first single, "Satellite", warmly, The Kills recently released their second single, "Future Starts Slow", to tremendous reviews.
There isn't a second of hesitation with this track, from the moment Jamie Hince strums that first chord, you have no choice but to be mesmerized. The riff, so simple but infectious nonetheless, is brilliantly poignant. Alison Mosshart and Hince do minimalism the way it was meant to be; they've managed to avoid producing a track that is pretentious in its austerity, but a truly haunting sound that is sure to stay with you long after Mossharts's voice fades away.
"Future Starts Slow" is in no way complex. Lyrically and instrumentally, The Kills have done away with distractions, solely relying on their God given talent to capture the hearts and ears of their audience. Although the simplicity of the song  is undeniable, so is its powerful anthemic quality.
This song is emotional. It causes you to want to obey Mossharts's aching vocals when she belts, "You can holler/ you can wail/you can blow what's left of my right mind" and shout right along with her.
The video, just recently released, is also garnering a lot of attention. A, sort of, mini-biopic of life on tour, The Kills have somehow managed to avoid cliché and deliver a video of substance. Director Philip Andelman circumvents the trap of amateurism and offers clear professional cinematography, allowing an authentic look inside the life of Mosshart and Hince without the low-budget high school film class feel.
As of yesterday, the single "Future Starts Slow" has been digitally released backed by B-side "Blue Moon" and it is slated to drop on July 19 via Domino Records.
---

Saron is a writer and student born in Ethiopia and raised in Washington, DC. She is incapable of keeping a phone for longer than a few months, exclusively wears Miss. Dior Cherie, and her guilty pleasures include any novel written by V.C. Andrews (don't judge), Essie's "Little Brown Dress", and Stoli. She is currently obsessed with the poetry of Edmund Wilson and The Arctic Monkey's latest album "AM".
All author posts