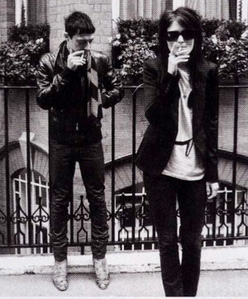 British twosome, The Kills, have recorded a somewhat unexpected and brilliant cover of Marilyn Monroe's "One Silver Dollar".
The track, originally sung by Monroe on the 1954 film "River of No Return", has lost its innocence with Mosshart's gritty take.
Its undeniable that Monroe's breathy, sultry ditty has become darker, yet it loses none of its charm.
Take a listen below:
The Kills – "One Silver Dollar" (Marilyn Monroe Cover) by TwentyFourBit.com
---

Saron is a writer and student born in Ethiopia and raised in Washington, DC. She is incapable of keeping a phone for longer than a few months, exclusively wears Miss. Dior Cherie, and her guilty pleasures include any novel written by V.C. Andrews (don't judge), Essie's "Little Brown Dress", and Stoli. She is currently obsessed with the poetry of Edmund Wilson and The Arctic Monkey's latest album "AM".
All author posts