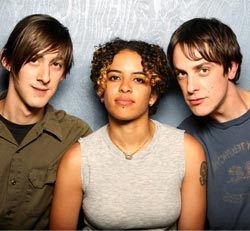 This is it, folks. According to the news coverage, billboards, and riots, tomorrow marks the end of the world as we know it — and I feel, well, indifferent.
People can only predict the end of days so often before it just starts to seem silly.
Sure, science and religion both agree on the fact that it's going to happen someday, but why fret now?
Just kick back and listen to the song of the week, The Thermals' religiously charged "Here's Your Future," the first song from 2006's album "The Body, the Blood, the Machine."
The song starts with the shrill waver of a church organ, which is followed swiftly by fast-riffing electric guitars. It's a short punk anthem with Hutch Harris singing about the end of days that Noah faced when building the ark.
The album in its entirety is full of thoughtful lyrics about religion and apocalyptic themes, all set to catchy punk rock. So if fun music with a serious message is for you, give it a listen right this minute — because apparently, we're running out of time.
The Thermals – Here's Your Future by Blades
Tags:
Hutch Harris
,
The Thermals