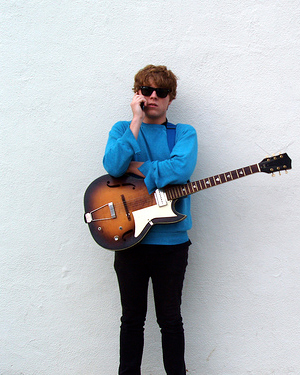 Discovering new music is an experience that is, in some ways, indescribable. At least for me, that feeling of instant connection to a song can provide a high that stays with you.
I've always felt that it's particularly rare to find that magical bond with a single song, and downright impossible to come across an entire album that (pardon the cliché) speaks to me. That was, until I heard Ty Segall's "Goodbye Bread".
I'm somewhat ashamed to admit that I wasn't familiar with Segall's work prior to this past week. The California native has been making music with bands like Party Fowl, Sic Alps, and The Perverts for years before beginning his solo career in 2008.
In the past three years alone, he has released seven albums/LPs including 2010's "Melted", which produced the dissonant hit "Girlfriend" and his most recent creation "Goodbye Bread".
The album progresses unexpectedly. Some songs are somewhat introspective, slow, and melancholic. Then you have those pleasant little ditties like "California Commercial" that keep you just wanting to bop along—so that's what you do—you continue to ride the wave until you hit "My Head Explodes" and then you just have to stop. At this point there's really no choice.
Track 6, of "Goodbye Bread" is about as multi-faceted as it gets. As Segall is constantly compared to the late Jay Reatard, it's easy to see his punk rock meets garage influences in this three-minute ode to the eccentric.
Don't let the "My Head Explodes" lethargic beginnings fool you. Once the 1:30 mark hits, it's impossible not to understand the true meaning of its title. The grandiose chorus is only accentuated by a drum line that just won't quit and with a riff that's so classic and heavy, its infectiousness is impossible to escape.
Listen to "My Head Explodes" below:
---

Saron is a writer and student born in Ethiopia and raised in Washington, DC. She is incapable of keeping a phone for longer than a few months, exclusively wears Miss. Dior Cherie, and her guilty pleasures include any novel written by V.C. Andrews (don't judge), Essie's "Little Brown Dress", and Stoli. She is currently obsessed with the poetry of Edmund Wilson and The Arctic Monkey's latest album "AM".
All author posts