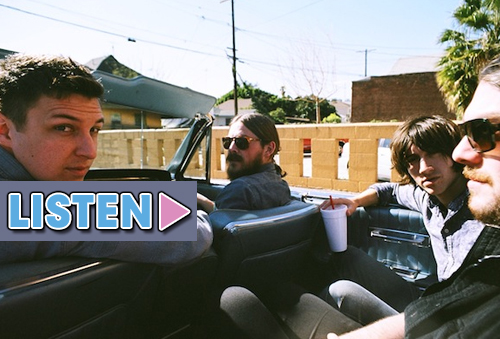 Is there anything more gratifying than listening to an English rock band that's really hitting their stride? In the case of Arctic Monkeys, the answer is a swift and steadfast "no!"
The Brit rockers are still basking in the glow of the critical acclaim for their fourth album, Suck It and See. In addition, they're on the second leg of their North American tour and gearing up for a huge European tour. Right now, it's good to be a Monkey.
Much to the delight of fans, the band has been rolling out new music videos and b-sides. Most recently is "Evil Twin," the b-side to their last single, "Suck It and See." The song is as evil as the title promises it to be, and is the perfect counterpoint to the sweet and melodious "Suck It and See."
"Evil Twin" delivers rollicking guitar solos, bombastic drum beats, and lead singer Alex Turner's cheeky, story-telling lyrics. The song follows a girl who's hard to grasp, blunt and carefree, with Turner singing, "It's not that I'm not free/There's nowhere I need to be/It's just your love's not what I need/So don't give it to me."
Be sure to check out the music video which is delivered in fast, quick clips, and stars Monkeys drummer, Matt Helders swaggering about the States with a beautiful model by his side.
Tags:
Arctic Monkeys
,
LISTEN