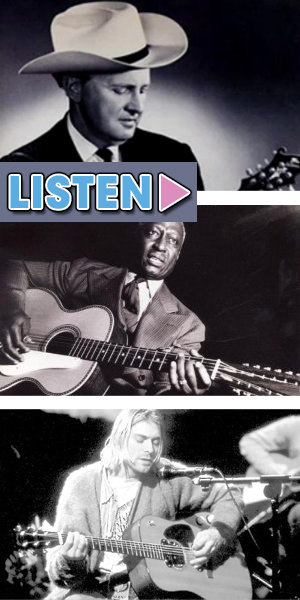 Cover songs are often both the best and worst thing about music today.
Music remakes are a great way for a musicians to put their own spin on things, but more often than not, cover songs rarely live up to its original.
But occasionally, songs that have been buried under years of musical releases see new life when a major artist gives their song a try.
One song in particular that saw a major resurgence in the '90s is "In the Pines," a traditional folk song that dates back to the 1870s. The song was first recorded for wide-spread release in 1941 by Bill Monroe.
| | | |
| --- | --- | --- |
| | | |
| |  In the Pines by Bill Monroe | |
But, perhaps the most famous cover, and the one that often gets the most credit, is by blues artist Lead Belly.
His version is also usually credited as "Black Girl" or "Where Did You Sleep Last Night?"
Then comes Kurt Cobain.
The Nirvana frontman, known for his penchant for hole-in-the-wall artists, seemingly plucked the song out of obscurity for the band's famed MTV Unplugged performance.
| | | |
| --- | --- | --- |
| | | |
| | Where Did You Sleep Last Night? by Nirvana | |
What's more impressive is the band chose the song to close the show, after a setlist loaded with covers of other little-known artists. They kept it simple, and Cobain opted for vocals that flew between morose and screeching.
The riff for the song can also be heard in the song "Ecstasy" by PJ Harvey. The talented solo artist gave it a dark, electric boost and put it on her wildly-acclaimed sophomore album, "Rid of Me." Though she changed the lyrics, it's still quite obviously the same song.
Although these covers are amazing (and countless others by the likes of Bob Dylan, Joan Baez, and the Grateful Dead), how many people have actually taken some time out to listen to the one that started it all? The song got covered by so many artists because it was amazing from the start.
LISTEN to Lead Belly's version of  "Where Did You Sleep Last Night?" below:
---

Yohana Desta is currently obsessed with Butch Cassidy and the Sundance
Kid, everything Dave Grohl does, and listening to Arctic Monkeys on
repeat.
All author posts