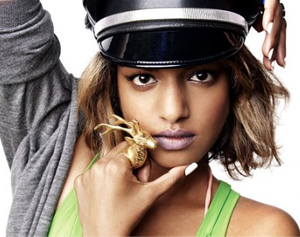 The recent death of Amy Winehouse has shaken Hollywood and prompted some, like M.I.A., to pay tribute to the fallen soul songstress. M.I.A. posted a track titled ""27" on Soundcloud this week and subsequently tweeted, "i recorded this song B4 vickileekx and never put it out. its a unfinished demo." She added, "R.I.P A.M.Y."
This ambient melody, although incomplete, is eerily haunting. With lines like "I took you to the clinic/ to get you clean but you couldn't" it's easy to feel as if this song was simply an ode to Winehouse rather than a tale of many fallen rock stars like Cobain and Hendrix who all "went to heaven" too soon.
---

Saron is a writer and student born in Ethiopia and raised in Washington, DC. She is incapable of keeping a phone for longer than a few months, exclusively wears Miss. Dior Cherie, and her guilty pleasures include any novel written by V.C. Andrews (don't judge), Essie's "Little Brown Dress", and Stoli. She is currently obsessed with the poetry of Edmund Wilson and The Arctic Monkey's latest album "AM".
All author posts