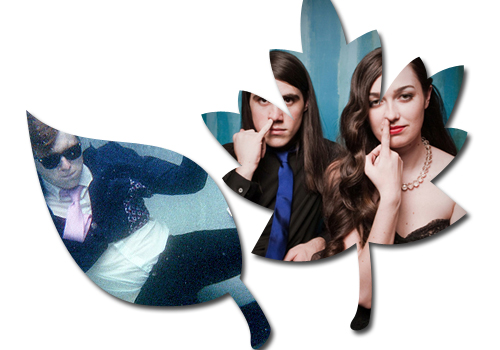 Fall has settled in, bringing with it crisp breezes and kaleidoscopic colors that drip from the trees. For those of you looking to shed your summer playlist, look no further. Meets Obsession has picked the perfect fall songs for you.
Ty Segall — "My Sunshine"
Though he's about as West Coast as you can get (raised in Orange County, producing music in the San Francisco Bay Area), Segall is the master of creating wonderfully lo-fi indie punk rock. Just listen to "My Sunshine" (and despite its name) you'll have the perfect jam to get you ready to walk into school like a fall champ.
Cults — "The Curse"
Thanks to the Cults, '60s girl pop has been fully revived. The duo, made up of real life couple Madeline Follin and Brian Oblivion, released their eponymous debut album last summer to rave reviews. Follin's effortlessly high and breathy vocals combined with Oblivion's reverb-soaked guitar strums made for a sound perfect for summer and fall. From the album, "The Curse" is a lazily-strummed track that calls to mind the images of dusty roads, westerns and wonderfully windy days.
Arctic Monkeys – "All My Own Stunts"
Where do I even begin with the marvelously talented Sheffield quartet? After debuting the fastest-selling record in English history (beating out Oasis for the title), the group has secured global fame. This summer marked the release of their fourth album, the brazenly titled Suck It and See, debuting a lighter sound from their previous album, the gloom-and-doom, Humbug. The current album has light summery touches, but they still bring their heavy-handed rock prowess to certain songs, especially "All My Own Stunts" which has back-up vocals by Josh Homme (Queens of the Stone Age, Them Crooked Vultures). With lead singer Alex Turner crooning, "Been watching cowboy films/on gloomy afternoons/tinting the solitude," what could get you more in the mood to snuggle into a chilly fall day and watch the western, Butch Cassidy and the Sundance Kid?
Pixies — "Where Is My Mind?"
If this band or song is foreign to you, you might have been living under a rock. Just kidding…kind of. For those who've never heard of the Pixies, I'm going to proclaim in a completely objective fashion, that they are one of the top indie bands. Their lo-fi meets crushing guitar riffs have inspired countless artists — most importantly, Nirvana. Needless to say, 1988's "Where Is My Mind?" is a perfectly gloomy indie anthem. What really makes it a great fall song are the echoey vocals that sound like eerie wind.
The White Stripes — "In the Cold, Cold Night"
When the White Stripes came out with their fourth album, Elephant in 2003, it seemed that they finally reached the tipping point. Their track, "Seven Nation Army" was lauded as one of the best rock songs of the still-young decade. The band won Grammys, and the album was put on Rolling Stone's list of the top "500 Greatest Albums of All Time." As of late, Meg and Jack White have called it quits, putting their peppermint colored outfits away, much to the dismay of millions of fans. Though Jack has continued making music (in the Raconteurs, the Dead Weather, with Danger Mouse), Meg has slowly slipped away. Give a listen to "In the Cold, Cold Night" to hear the drummer hauntingly croon about lost love.
---

Yohana Desta is currently obsessed with Butch Cassidy and the Sundance
Kid, everything Dave Grohl does, and listening to Arctic Monkeys on
repeat.
All author posts