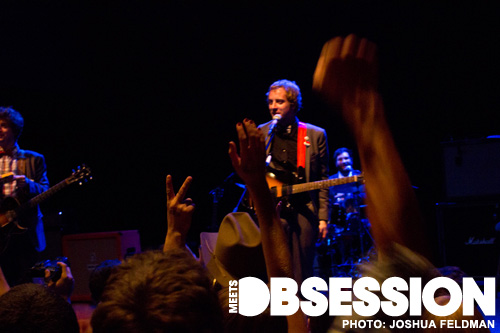 What ever happened to the good 'ol days of rock 'n roll?
And when I say "good 'ol days," I don't mean the times when tweens went ape-shit over four British dudes with the same haircut, or the LSD-fueled era of peace, love, and 25-minute guitar solos.
I'm talking about the days of old fashion, drunk and rowdy rock and fucking Roll.
With the birth of punk, metal, and alt-rock, the 70's gave birth to that lifestyle. Then it got a little weird in the 80's with all those flamboyant hair-metal bands, but then the 90's rolled around with the grunge movement, and that spirit of rock lived again.
But then something tragic happened. As the turn of the century rolled around,  rock 'n roll  became commercialized.
Bands began to sell out and corporations began to brand that rowdy, raucous image to the point of utter nullification. As Hot Topics began to spread like wildfire across the vast strip malls of America, the once-reigning spirit of the rock 'n' roll lifestyle died and was reborn as merely just an image.
| | |
| --- | --- |
| | |
| Deer Tick performing LIVE at the 9:30 club. Photo: Joshua Feldman. | |
Being rock 'n' roll was out, but looking rock 'n' roll was in.
Thankfully, we have bands like Deer Tick around today to remind us just what those glory days of rock were all about.
Last Sunday, the Providence, RI-based group stopped by Washington, D.C.'s 9:30 Club for a drunken, rowdy set that fully lived up to the glory days of rock 'n' roll.
With openers the Dead People and Virgin Forest, the party for all three bands clearly started well before doors opened.
By the time Virgin Forest took the stage, the level of unabashed inebriation was in full force as the band powered through a set of spilled drinks, and snotty banter from lead singer Scott Stapleton.
Though Virgin Forest's music isn't the most original or inspired brand of indie rock, there's no denying that Stapleton's unhinged and provoking stage presence got the crowd riled up.
Led by singer/guitarist John McCauley and his gravelly voice, Deer Tick's five-piece indie/folk sound is a beautiful hybrid of subtle, delicate folk ballads and straight up rocking Alt-Country jams.
As McCauley and crew came out, in matching suits and six packs in tow, the drunken crowd immediately went wild as the band launched into a new track from their forthcoming album, Divine Providence.
After the tune, McCauley explained that, per their label's request, they weren't allowed to show any more new material until the album drops next week, much to McCauley's consternation. But that didn't stop the boys from delivering a powerful show that covered all the bases of their musical career and even a few surprising covers.
| | |
| --- | --- |
| | |
| | |
| |  Deer Tick's Bastards of the Young |
Fan favorites like "Easy," "Houston, TX," and "Christ Jesus" sent the crowd into a fiery, drunken frenzy, but for me, the moment I lost control was when the boys launched into a pitch-perfect cover of The Replacement's classic anthem "Bastards of Young."
See, for me, The Replacements are my favorite band of all-time, and "Bastards of Young" is perhaps my favorite of their tracks, so you can imagine how annoyed everyone around me was when McCauley and co. struck those first glorious chords and I severely lost my fucking shit (to those unfortunate enough to have been around me when they played "Bastards of Young": Sorry).
At about three-quarters of the way through their set, McCauley decided to turn the party knob up to 11 and invited anyone who wanted up onto the stage to rock out with them.
What followed was about a dozen or so drunken people slowly, but surely piling up onto the stage for what was one of the most fun set endings I've seen at the 9:30 club.
Appropriately enough, the band closed their set with the power-drinking ballad "Let's All Go to the Bar," which I probably assume inspired a bunch of drunken idiots to go to the bar on a Sunday night, black out and probably miss work the next morning.
Well played, Deer Tick, very well played.
[nggallery id=91]
Tags:
9:30 Club
,
Deer Tick
,
John McCauley
,
Joshua Feldman
,
Scott Stapleton
,
the Dead People
,
Virgin Forest