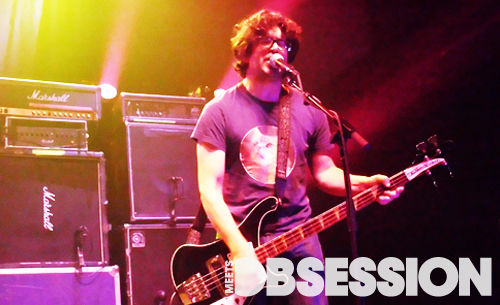 Those who grew up with indie-rock band, Dinosaur Jr. in the 90s were treated to a bit of nostalgia at the band's sold out performance at the 9:30 Club in Washington DC.
On their east coast tour for the limited, re-release of their 1988 critically acclaimed album, "Bug," Dinosaur Jr performed the album in its entirety. "Bug" was the third album released by the band, and also the last album released by its original members before they disbanded in 1989.
Back were the trio—J Mascis (singer, songwriter and guitarist), Lou Barlow (bassist and songwriter) and Murph (drummer) who broke apart after creative differences between Mascis and Barlow. The original ensemble reconciled in 2005 to release two albums, "Beyond" (2007) and "Farm" (2009).
The show opened with the band, Off!, led by singer Keith Morris, the well known front man of the seminal, hardcore punk band, Black Flag. The wonder band also includes Dimitri Coats (Burning Brides), Steven McDonald (Redd Kross) and Mario Rubalcaba (Earthless/Hot Snakes/ Rocket From The Crypt).
True to expectations, Off! pounded the stage and gave an electrifying performance, with Morris, confrontational in his presence, commanding the front of the stage, and intensely gazing out into the audience.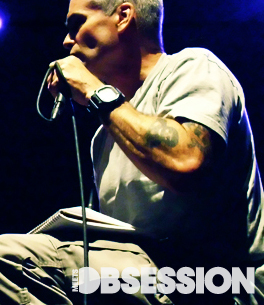 Continuing the Black Flag theme was Henry Rollins who gave a rather entertaining 20 minute interview with Dinosaur Jr. The interview was entertaining mostly because Mascis—famous for being introspective and laconic in his statements—sat next to an effusive Rollins, looking distantly off into the ethers, as he tried to answer open-ended questions like, what was it like to be part of a time in which music was changing?
Mascis, true to form, kept his answer brief but thoughtfully drawn out as he replied, "It was amazing…we were all influenced by [bands] like the Meat Puppets…to be part of that was amazing."
Dinosaur Jr. performed after the interview. At one point, Mascis who had, for the most part, stood transfixed on stage, broke off from his steady stance and regaled audiences with his brilliant guitar playing. With the neck of his guitar in the air, audience cheered as his fingers rapidly trickled through each of the chords.
For those of you wondering if Barlow mustered the voice to belt out the last track, "Don't" on the album, sorry to say, he didn't. Rather, his friend, Jeremy (to the disappointment of fans) sang the track.
Although, to Barlow's defense, screaming the lyric, "Why don't you like me?" a thousand times probably wouldn't be the best thing for a voice in a multi-city tour.
Dinosaur Jr., for their encore, played "Sludgefeast" and "Raisans," which were two tracks from their seminal album, "You're Living All Over Me" that was released in 1987.
Compared to the interview with Rollins, the encore showed a more animated band, with Mascis and Barlow dueling back and forth on their guitars as they were determining what songs they wanted to play. This final track selection highlighted a thoughtful endpoint to what amounted to a nostalgic evening.
Tags:
9:30 Club
,
Black Flag
,
Dinosaur Jr.
,
Henry Rollins
,
Off!