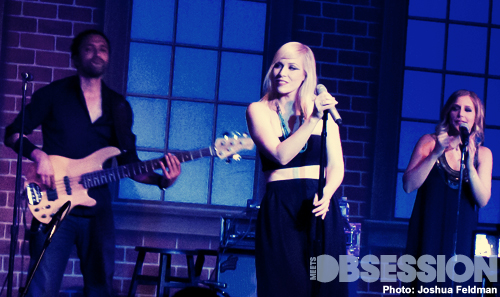 When one thinks of pop music, thoughts fly to glitter, overexposure and blah vocals sung over recycled beats — and then comes Natasha Bedingfield.
Yes, she of the sunny and upbeat, be-all-you-can-be artist in pop music. Yet, the U.K. native tore up the stage at the Birchmere in Virginia Monday night on her "Less Is More" tour.
There were two opening acts — singer-songwriter Andy Grammer, whose music was fiercely reminiscent of an early Jason Mraz, and was complete with cheerful acoustic numbers and earnest beat boxing. Next was Kate Voegele, who is perhaps best known as playing the short-lived character, Mia, on the television series, "One Tree Hill."
But it was when Natasha took the stage that the show really began. Wearing a wide black bandeau and black harem pants, she opened with songs off her latest album "Strip Me Away," like "Neon Lights" and "Little Too Much." Bedingfield's voice is at times raspy, and at times impossibly high, and disappears into breathy territory that simply becomes inaudible.
She spoke about the theme of the tour, stating that it was about "stripping back the layers…and how hard it is to be vulnerable and real in front of people." This was followed up by "I Bruise Easily," an R&B influenced single off her debut album, "Unwritten," by far her most popular work.
Remaining true to the tour's theme, the show had a simple vibe, with more stripped down versions of her original songs. However, the fuller moments in her set were what made the show really come alive. Before singing "All I Need," Bedingfield prefaced it as a song that made her "feel powerful." It also sounded eerily like "Let It Rock" by Kevin Rudolph, perhaps because it was featured and co-written by the pop-rock singer. The power of the song ultimately hit listeners square in the face when she started singing the lyrics.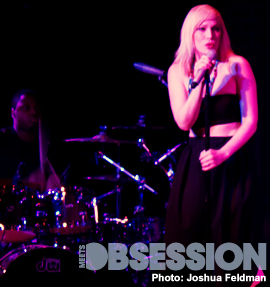 Bedingfield was able to scream and shout and actually utilize the fullness of her voice. While she's wonderfully capable of simply sitting and singing with little to no instrumentals (which she did later on the sweet ballad "Soulmate"), she's a restless performer who sounds best when she's belting out her music.
She kept the energy up with a reggae-influenced cover of "Message In a Bottle" by the Police. After slaying the famed Police song, Bedingfield joked, "Of course, these days you'd have to say 'sending out an SMS' or 'sending out a tweet.' Yes, I tweet. I resisted for a long time though because I thought, who wants to know what I had eaten for breakfast?"
Bedingfield was no stranger to stage banter and was charming all night long. In between songs she would talk to the audience and playfully hum lyrics to songs like "Single Ladies," by Beyoncé, "What's My Name" by Rihanna and "Sex on Fire" by Kings of Leon. Then she launched into a full rendition of "Purple Rain" by Prince, tearing up the vocals and hitting each and every high note.
After a set filled with covers and mostly new music, Bedingfield finally acquiesced and sang the songs she's most known for.
"Pocketful of Sunshine" had maturity, and bare bones feel about it, tying in with the theme of stripping down the live shows and taking away the pop edge. "Single" had a menacing and predatory feel to it, with Bedingfield simply purring the lyrics that call single ladies everywhere to revel in their independence, while "Love Like This" brought back the happy vibe Bedingfield usually projects.
After thanking everyone for a wonderful show, the blonde chanteuse wrapped up the night with a delightful rendition of "Unwritten," unleashing her effervescent theme of inspiration on the audience. The song filled up the venue, proving that sometimes more really is more.
Tags:
Andy Grammer
,
Birchmere
,
Kate Voegele
,
Natasha Bedingfield
,
Strip Me Away