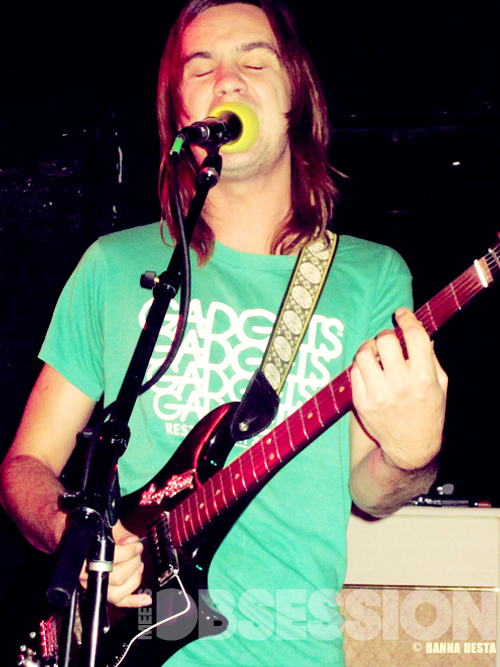 Thoughts of Australia call to mind blond hair, beach vibes, and bare feet. So it's perfectly appropriate that Australian psychedelic band, Tame Impala fit the criteria. Formed from lead singer and guitarist Kevin Parker's original rock outfit, the Dee Dee Dums, drummer Jay Watson, guitarist Dom Simper, and bassist Nick Allbrook joined the group and renamed it Tame Impala in 2007. Since then, the band has been on tour nonstop, performing at festivals like Big Day Out, and previously opening for stoner pop duo MGMT.
On May 7, the group took to the Black Cat stage to kick off their first headlining tour in North America for their new album "Innerspeaker."
Opening for them was the curious British-American rock ensemble Yuck. The motley crew consisted of Daniel Blumberg on vocals and lead guitar, Mariko Doi on bass, Jonny Rogoff on drums, and Max Bloom on guitar. Blumberg stood with a horrifying hunch, his skinny frame and floppy brown hair gave him an uncanny resemblance to a young Bob Dylan. But the band's sound was far from folk, and instead, more 90s sonic rock, with Blumberg singing with his mouth shut tight, and angst seeping out of every pore.
Their opening song "Holing Out" was a tangle of grungey guitar riffs and repetitive, youthful lyrics, followed by the equally lyrically song, "The Wall." After breaking out of a guitar reverb reverie, Blumberg looked into the audience and thanked Tame Impala for inviting them on tour, in his charming British accent, stating dreamily that "it's been…it's been beautiful." After a few more beautifully crafted, Silversun Pickups-esque numbers, Blumberg once again addressed the crowd and relinquished what little knowledge he had of the District.
"I heard Barack Obama lives here — him and Royal Trux," laughed Blumberg, likening the President to the Jennifer Herrama-fronted garage rock band.
After closing on the heavily distorted "Rubber" in which Blumberg laid down on the floor with his guitar and scratched it with his pick, Tame Impala took the stage.
All barefoot and flashing peace signs (save for bassist Allbrook), the band launched into "Why Won't You Make Up Your Mind?" off their new album. Parker's Lennon-esque vocals floated high over the band's riff heavy psychedelia. Songs like "Expectation" and "Alter Ego" were trippy and spectral, often diverting to Parker's carefully plotted jam sessions.
The lighting was fascinating, as the backdrop was a green visualizer that spiraled with every tap of the drum — which often prompted Watson to turn around and simply stare transfixed by it while playing.
After "Desire Be, Desire Go," the band took a moment to address the crowd, thanking everyone and Yuck for being such an awesome band. "Now all you bloggers can go blog about how much better they are than us," said Watson sarcastically.
They also rambled about encores and how they would not do them because they're "cheesy." They also took a moment to thank their roadies and manager after the rock instrumental "Jeremy's Storm," a sweet and sincere move that suits the happy-go-lucky stoner rockers.
The band also did a cover of Massive Attack's "Angel," a haunting, bass-driven number that added a mysteriously dark tinge to an otherwise happy trip of a show.
Though the sound was laidback and the vibe mellow, it was obvious that the band put a lot of production into their sound. Parker's bare feet were constantly in motion, nimbly pushing pedals and twisting knobs. Most of the songs even delved into extended drum and guitar solos.
They closed with the ever-popular "Half Full Glass of Wine" which some fans may have heard on an episode of "Entourage." They gave it the full "Whole Lotta Love" treatment, with a spacey interlude full of distorted guitars and jungle-worthy drum beats. This version was incredible, trumping any studio recording the band had done. It left the crowd hypnotized and clamoring for more of Tame Impala's immaculate and sun-drenched reverb rock.
Oh, but if only they did encores.
Tags:
Black Cat DC
,
Tame Impala
,
Yuk