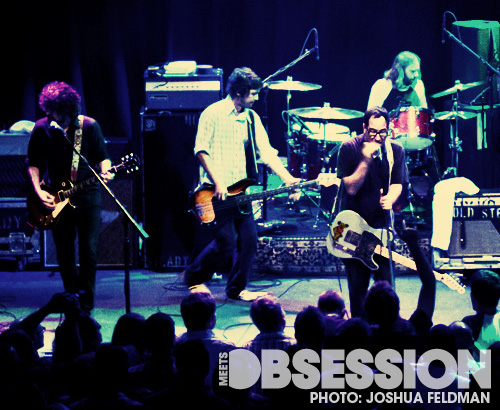 The Hold Steady might be the most prolific band around today. Sure, that's a bold statement: But take into consideration that in their seven years together, they've moved from a lyrically quirky bar band into a universally-revered act that sells out nearly every club. Led by lead singer/guitarist Craig Finn (who may be the most animated and amusing front man of all time), the New York based band combines elements of classic rock, arena rock, blues, and punk to create a fresh sound for today's music industry.
With a large fanbase of loyal fans, The Hold Steady has little left to prove. Though, you could never tell that from their live shows as they play each song like it was their last; and you feel that there's nothing they'd rather be doing at that moment than play music loud enough to blow out eardrums.
Last Thursday, the band performed at Washington, D.C.'s 9:30 club among a raucous and sold out audience whom spilled beers, pumped fists, and drunkenly rocked out in the manner that great bar bands tend to induce. Touring for their newest record, last year's Heaven is Whenever, which was met with lukewarm reviews from critics, the band toned back on the newer tracks and instead, delivered a marathon 24 song set that included old fan favorites like "The Swish," "Stuck Between Stations," and "Girls Like Status."
While the band plowed through anthems from all five of their studio albums with high energy and insatiable gusto, noticeably absent from their set was the departure of long-time keyboardist Franz Nicolay. Though, since his departure the band has had Dan Neustadt (of the band In Cadeo and World/Inferno Friendship Society) fill in during tours, this tour is the first time The Hold Steady has toured without a keyboard player.
Also absent from their set were parts of songs that showed off Nicolay's integral keyboard skills. Still, the band raged on like nothing was missing and delivered a powerful, crowd-pleasing performance. The show's crowning conclusion came when the openers, San Diego's The Donkeys joined the band onstage for a rousing rendition of their classic tune "Killer Parties."
This was the last date that The Donkeys were on tour with The Hold Steady, and it certainly was a touching, unifying, and rocking end to a great show.
Set List:
"Stuck Between Stations"
"Hurricane J"
"Girls Like Status
"Cattle and the Creeping Things"
"Goin' on a Hike"
"Sequestered in Memphis"
"The Swish"
"The Sweet Part of the City"
"You Can Make Him Like You"
"Rock Problems"
"Magazines"
"Constructive Summer"
"Hot Soft Light"
"Chips Ahoy!"
"We Can Get Together"
"The Weekenders"
"Your Little Hoodrat Friend"
"Southtown Girls"
"Massive Nights"
"Slapped Actress"
Tags:
9:30 Club
,
Joshua Feldman
,
The Hold Steady