Photo Credit: Bryan Bruchman
There's no surprise that being married to a philosopher and growing up the daughter of political refugees would have its theoretical impact. Using these experiences, Alina Simone is a musical muse who creates captivating melodies that traverses countries and make hearts beat.
She was born in Kharkov, Ukraine and grew up in Boston.
Now living in Brooklyn, her second original full-length album entitled Make Your Own Danger shows her gasping and grasping for her lost culture and heritage in a society much displaced from her culture and for that matter, reality.
She's serene, wonderfully haunting and lures you in like a mythical siren full of meandering mystery, withering whispers, and soothing screams.
Setting herself apart from the standard indie singer songwriter, Alina retains the cosmic power of her music through soul-wrenching mishmashes of flute and horns, and blood binding animalistic auditory eminences. And all the while, she throws out lines like "I want to feel love/Get caught in the echo chamber/I want to get crushed in the beautiful machine." This is exactly what her music does—it pulls you in, almost brilliantly crushing your ears, soul, and mentality and then spits you out in a frenzy to make you think that you've never heard anything like that before.
Resembling the impressive voices of PJ Harvey and Cat Power, her music retains a certain obscurity and harshly protracted appeal that contributes to its charm. The songs transcend the boundaries of language and comfort, leaving you with an out of body and mind experience.
For Alina, the creative process of putting together an album goes far beyond translating emotions into words. She's an artist resurrecting what is lost, and reassembling what is broken. For this wailing songstress, it's about exceeding the very depths of human familiarity to create something unheard of, something unthinkable, and even something thought impossible.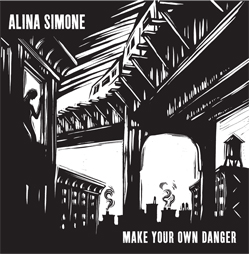 Along with her album, she released a satirical book of essays called You Must Go Within. Much like her album, the memoir documents her personal and creative passage to discovery, enlightenment, and distress. In the book, you wander the streets with a young Alina in St. Petersburg who is searching for answers to life's "big questions," and ironically finding them amongst killers, strippers, "Punk Monks", and yes, Harry Potter.
Beautifully random, the book is a genuine tale of her life that has been both plagued and inspired by the universe, and if full of chance experiences.
Alina Simone, in her album and book, is bearing her soul to the world, openly and honestly.
Tags:
Alina Simone
,
Make Your Own Danger