Courtesy Photo
Best known as the former half of acoustic duo, The Everybodyfields, Tennessee native, Jill Andrews is now trying her hand as a solo artist. Her debut album, "The Mirror" is a crafted, meticulous pop album, with subtle country twangs and a gentle, Southern croon.
The album was produced by well respected, Scott Solter (who produced the works of Superchunk and The Crooked Jades) and Neilson Hubbard (who worked with Glen Phillips and Matthew Perryman Jones).
"The Mirror" takes a minimalist approach, and is an amalgam of folksy pop with country sensibilities. Each song has a cohesive idea and nothing that feels out of place. And what is most distinguishable in the album is Andrews' soft, wistful voice, nudging its way into your ears.
Though it would be easy to compare Andrews to other singers with tracks like "Another Man," that have a pop edge that would suit Sara Bareilles, or "Blue Sky," that have the quirky lyrics of Regina Spektor, it wouldn't be fair to liken Andrews so quickly to others — for her sake, and for theirs. Andrew has created her own sound.
However, one wonders with "The Mirror" what  sound, exactly, is she's going for?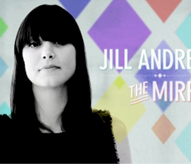 The strongest parts of the album were Andrews' more somber songs, where her gentle voice perfectly married storyteller lyrics with slow-strummed acoustic guitars.
A song like "Cut and Run" was poignant and sad. Then there was "Sinking Ship," that had minimal instrumentals, and focused solely on Andrews' angelic voice and had conversational lyrics, like "Wasted the night away on beers and poker games/ I told myself he's going to make something good of this day." These songs had country undertones, where one heard the quiet vocals and twang of Andrews' voice.
The album also had pop influences with songs like "Blue Sky," which was a bit faster and more folksy. Its doubled up vocals and Laura Marling-esque melody provided it with a sing-along quality. The eponymous track, "The Mirror," had a jangly sound that coaxed the listener to tap along.  While simple, the track had catchy lyrics like, "You broke the mirror/But I will get the bad luck" that makes you want to sing soon after.
However, it was in the closing song, "You", a piano ballad that coalesced into an echoey chorus of electric guitars that the album should have had more of. In "You," Andrews' voice beautifully complimented the ethereal electric sound.
While "The Mirror" had some strong tracks, in the end, it was too controlled. There were no raw moments, and while Andrews brought sorrow to a song, mostly, it felt rehearsed. While it's clear that the focus of the album is on Andrews' voice, the incredibly minimal approach could have used a bit more energy and a few more instruments.
Still, "The Mirror" offered gentle nuances, and proved that Andrews has the potential to create a stronger, second solo album.
Tags:
Jill Andrews
,
Superchunk
,
The Everybodyfields