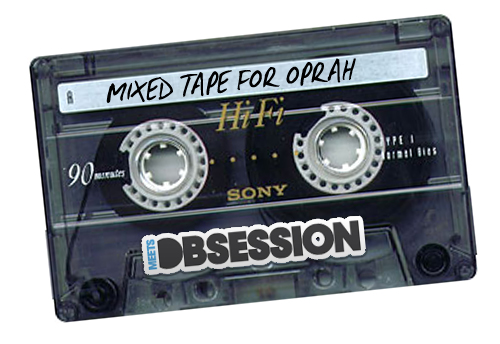 It's finally happened. After 25 glorious and memorable years, The Oprah Winfrey Show has ended its reign on television. Though the world didn't end on Saturday, it's pretty much over for fans of Oprah — which includes almost everyone.
So, I bid the big O adieu with a select mixtape of songs that encapsulate the emotions I feel as the legendary show comes to a close.
Paul Simon — "25 Years"
(Watch the "25 years" version here)
When an artist as incredible as Paul Simon (one half of sentimental folk rock duo Simon and Garfunkel) pens a song for you, it's clear that you must be important. Originally titled "10 Years," Simon wrote the song for the show's ten-year anniversary and rewrote the song to suit the final season of the show, which only speaks to the brevity of Oprah's power. He also performed it live on one of the final episodes this season, and the song was the sole soundtrack of the final episode. It's no secret to Oprah fans that Simon is one of her favorite singers, which makes the song even more special. Chances are the simple acoustic ballad is still stuck in your head after hearing it constantly during the farewell show.
Sparklehorse — "Sad and Beautiful World"
Maybe now that the final credits have rolled and Oprah Winfrey has walked out of her studio for the final time, the emotions are starting to hit pretty hard. This song is for those who just want to wallow in their sadness and cry from sunrise to sundown, all while holding their gratitude journals and watching dvd sets of the Oprah show. Sparklehorse, the band fronted by the late and poignant Mark Linkous, always had a way of doling out simple rock songs balancing between sadness and absolute anguish. It's a perfect song for sadly reminiscing on your personal favorite moments of the Oprah show. But just in case you get swallowed in your emotion, the chorus is always there to remind you that there's some beauty in this world too. Listen to it here.
Player — "Baby Come Back"
It still just doesn't seem right that Oprah Winfrey will no longer have her own television show. Sure, she'll only have an entire network now, but it won't be the same not seeing the most powerful woman in America (OK, maybe this year she got debunked by Lady Gaga, but I'm choosing to ignore that) on our television sets everyday. The truth is setting in hard and fast, but would it hurt to just ask, just this once: Oprah, come back?
Celine Dion — "My Heart Will Go On"
It might not seem like it, but there will certainly come a time when fans will grasp the notion that 4 p.m. is no longer designated Oprah time. Thus, they'll all have to find something else to fill the hour, as she would have wanted. So, though chances are you've heard this song a million times, it's only fitting to put it on this list, because somehow, I'll find it within myself to go on with "The Oprah Winfrey Show."
---

Yohana Desta is currently obsessed with Butch Cassidy and the Sundance
Kid, everything Dave Grohl does, and listening to Arctic Monkeys on
repeat.
All author posts