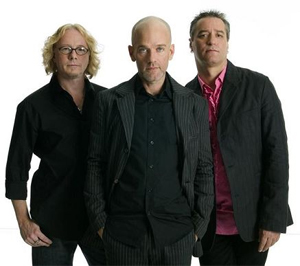 After over 30 years together, alt-rock legends R.E.M. announced on their website that they're calling it quits. The band posted the following statement:
To our Fans and Friends: As R.E.M., and as lifelong friends and co-conspirators, we have decided to call it a day as a band. We walk away with a great sense of gratitude, of finality, and of astonishment at all we have accomplished. To anyone who ever felt touched by our music, our deepest thanks for listening.
The band, consisting of drummer Bill Berry, bassists Mike Mills, guitarist Peter Buck, and lead singer Michael Stipe formed in 1980 in Athens, Georgia and will go down as one of the greatest and most influential bands in American rock music.
When their debut album Murmur was released in 1983 it was met with widespread critical acclaim and the alternative quartet quickly became a mainstay within the college rock scene.
While cultivating an underground following with their catchy combination of alt rock, new wave, and pop, R.E.M. didn't breakthrough to mainstream success until their fifth studio album, the critically-adored Document.
Following the success of Document, the group blew up in the '90's to worldwide notoriety with such great albums as Out of Time, Automatic for the People, and Monster and producing classic hits like It's the End of the World As We Know It (And I Feel Fine), Losing My Religion, Man on the Moon, and Everybody Hurts.
What makes the band so special goes beyond the number of hit records and singles — it's what they stood for and how their influence changed the landscape of modern rock.
Coming off of the heels of the punk and new wave boom of the late 70's, R.E.M. took that sensibility and combined it with a classic garage rock sound and the progressively-political lyrical styling's of Stipe to create wholly new and original sound.
They were the godfathers of alternative rock, and, in their heyday, the voice of a generation.
That voice did not go unnoticed. R.E.M.'s music directly influenced many great musicians and bands, and it can be said that they paved the way for the grunge boom of the early '90's. They were the pioneers of modern rock and iconoclasts on the same level as The Beatles or Nirvana.
However, in the three decades the band has been around, it can't be denied that the last decade hasn't been their strongest suit.
Berry, the band's original drummer departed in 1997 due to health reasons. The band carried on without him as a three-piece outfit, out of respect, rather than replacing him.
In that time, the band released five studio albums (Up, Reveal, Around the Sun, Accelerate, and the latest, Collapse Into Now), most of which was met with mixed to negative reception (although their last two, Accelerate and Collapse Into Now were perhaps their two most positively received albums since Monster).
Even for the most die-hard R.E.M. fans, it's been pretty clear that they were way past their prime.
Which is why I'm glad they're calling it quits.
For me, R.E.M. remains one of my most favorite and influential bands. I was introduced to them at an early age (through my father, who has impeccably good taste in music, sans Jimmy Buffet), and there's no denying that their music shaped and influenced my tastes in ways I'd never imagined. I've been privileged enough to have seen them live twice, and those are two of the best live shows I've seen, whose memories I will hold on to for the rest of my life.
Yet, as much of an R.E.M. fan as I am, I can't deny that they've slipped under the cracks for me (as I know they have for many other fans) in recent years. Their latest studio efforts have been lackluster at best, only serving to remind me to revisit their older catalog each time. So, while this announcement comes as a bit of a shock to me and many other fans, I think it's for the best.
Clearly, R.E.M. is not the band they once were, and while I did enjoy their latest album, Accelerate, I'm glad to see them go out on a high note rather than stick it out and fade away in the music world with more and more disappointing efforts.
I want to remember them as the great and revered band that they are, not as another band that "should have called it quits years ago."
So with that, I'd like to take this opportunity to thank R.E.M.; Peter, Mike, Bill, and Michael, for 31 years of great music that has been such a huge influence not only on my musical taste, but the entire music industry.
Here's to you guys.
---

Matt is currently obsessed with Rap Snacks, post-hardcore, pizza parties, and Carl Sagan's Cosmos.
All author posts