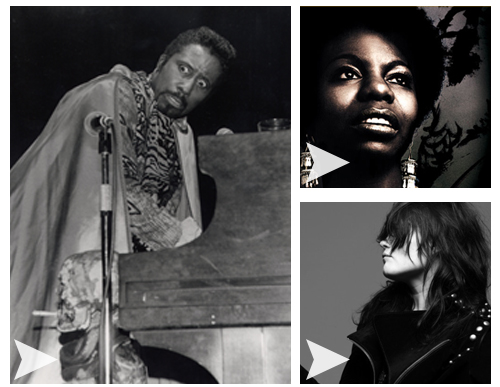 Quick — who sings the famed number, "I Put a Spell on You?"
If you said Shane MacGowan, Chrissie Hynde, or Alice Cooper, you are kind of right. If you said George Clinton, the Cramps or Creedence Clearwater Revival, you're still only kind of right. But, if you said Screamin' Jay Hawkins without a moment of hesitation, give yourself a gold star.
Nearly everyone has heard the creeping, voodoo style lyrics of "I Put a Spell on You," be it through movie soundtracks or one of the many covers. But few songs hardly touch the original.
Screamin' Jay Hawkins released the song in 1956. And they didn't call him 'Screamin' for nothing.
Hawkins had a deep, bluesy trill à la Howlin Wolf, but he punctuated every break in the song with murderous screams and howls.
"I Put a Spell on You" became a classic staple for wannabe rockers with its simple, haunting riffs, playfully dark lyrics and strong, screeching vocals. The song was also inducted into the Rock and Roll Hall of Fame's 500 Songs that Shaped Rock and Roll.
However, though the original itself has been quite monumental and put Hawkins on the musical map, two covers of this badass number have come close to really making it their own.
Nina Simone covered the track for her album (called "I Put a Spell on You," no less) in 1965.
The jazzy singer/songwriter transformed the song, turning it into a sweeping, romantic ballad, with gentle, chintzy pianos and harmonious string instruments. Her version melded beautifully with her deep, androgynous voice and became one of her best-known songs.
Though countless rock bands have covered the number, none dared to touch the song like garage rock duo, the Kills. Made up of Alison Mosshart and Jamie Hince, the band does their best to capture the original spirit of the song. Mosshart belts her heart out and screams frighteningly loud, doing her best Screamin' Jay impression.
Hince adds electricity to the song with the Kills' signature dose of screeching guitars with jittering reverb. Together, they revitalized it as the down and dirty rock song that it was all along.
One thing is for certain — Screamin' Jay Hawkins managed to put a spell on us with just one song, and for that, he is a legend.
Tags:
Alison Mosshart
,
Nina Simone
,
Redux
,
Screamin' Jay Hawkins
,
The Kills