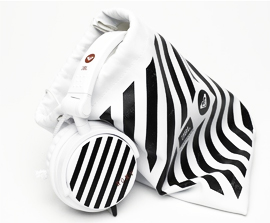 For anyone who's looked at the stark, white canvas of ear-buds and thought, glitter glue or stick-on sequins, Roxy is answering your headphone prayers.
The folks at Roxy are rolling out the most stylish music accessories this summer. Thrift spenders can pick up multi colored or black and white ear-buds for 79.95. For those with a little more cash to burn, $99.95 will get you a pair of oversized zebra or rainbow print headphones.
Roxy also makes other cool accessories, like a black and white stripped portable iPod dock with speakers, as well as a totable speaker that will blast music from your phone or iPod.
Whatever you choose from Roxy, you'll be sure to have your own summer road trip soundtrack totally covered.