There are very few musicians that have earned icon status—the famous punk rock band, Ramones, being one of them.
Inducted into the Rock and Roll Hall of fame in 2002, Spin magazine dubbed them the second greatest rock band of all time following only the Beatles that same year. In 2011, the band received the Grammy Lifetime Achievement Award.
The Ramones have produced punk rock melodies that have inspired generations, and will continue to do so with the rerelease of their first four records: Rocket to Russia, Leave Home, Ramones, and Road to Ruin, on 180-gram vinyl from Rhino records.
According to the label, the records will be packaged in their original forms and "were made using lacquers cut from the original analog masters by Chris Bellman at Bernie Grundman Mastering."
In addition, the first 500 copies of each record will come bundled with singles on seven-inch blue vinyl.
For new and old Ramones fans, this redistribution will help them relive a band that brought a generation to social consciousness.
Each album is sold at a suggested retail price of $17.98, with album sets featuring the special blue vinyl at $24.98 on Rhino's website.
---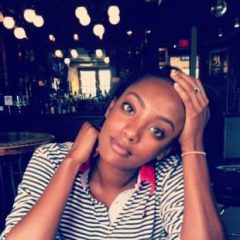 Saron is a writer and student born in Ethiopia and raised in Washington, DC. She is incapable of keeping a phone for longer than a few months, exclusively wears Miss. Dior Cherie, and her guilty pleasures include any novel written by V.C. Andrews (don't judge), Essie's "Little Brown Dress", and Stoli. She is currently obsessed with the poetry of Edmund Wilson and The Arctic Monkey's latest album "AM".
All author posts