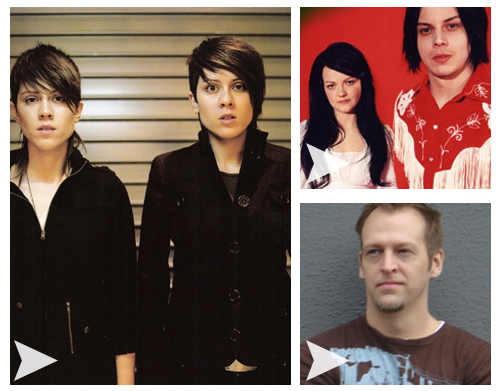 | | |
| --- | --- |
| | |
|  First Serving: Walking with a Ghost by Tegan and Sara | |
Any fan of indie music has likely come across the high-pitched poppy tunes of twin musicians, Tegan and Sara. Formed in the late 90's, the duo's music is a wondrous blend of indie rock and pop.
Since then, Tegan and Sara have risen in fame–performing at countless shows, and collaborating with well-known artists such as DJ Tiësto, Against Me, and Theophilus London. In addition, their songs were featured in television shows like One Tree Hill, Grey's Anatomy, 90210, The Hills, and The L Word.
One of their popular singles, "Walking with a Ghost," was released in 2004, under their fourth album, So Jealous. The album marked a departure from their indie folk sound into spunky pop rock. And the wiry, start-and-stop acoustic track, "Walking with a Ghost," perfectly featured the duo's child-like vocals.
| | |
| --- | --- |
| | |
| Second Serving: Walking with a Ghost by the White Stripes | |
The track was a hit, and was covered by the White Stripes (who would seem to be unlikely Tegan and Sara fans) in 2005. The White Stripes version featured Meg White's jungle-worthy drum beats, and a whiny Jack White singing over great electric guitar riffs.
The duo even released an animated music video for the song, doused in the group's signature colors of red and white.
"Walking with a Ghost," was also covered by San Francisco DJ Party Ben, who did a mashup of the song with the track, "Paris Four Hundred" by electro musician, Mylo.
| | |
| --- | --- |
| | |
| Third Serving: Walking with a Ghost in Paris by DJ Party Ben | |
Retitled "Walking with a Ghost in Paris," the song was remixed into a dance-worthy and addictive beat, and proves the mass appeal of Tegan and Sara.
Tags:
DJ Party Ben
,
Jack White
,
Tegan and Sara
,
Walking with a Ghost