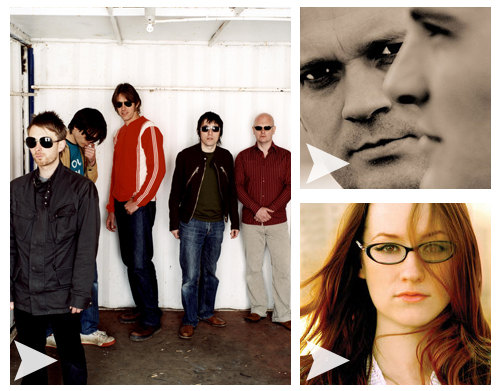 Indie fans everywhere, rejoice! Radiohead has announced a ten-stop North American tour.
It's about time, isn't it? The group released their eighth studio album, The King of Limbs, last February.
And in honor of the English group, I'm dedicating this week's Triple Servings to the quiet hit, "Creep."
Released in 1993 on their debut album, Pablo Honey, the song was the band's first single; however, it didn't see widespread success until the album's re-release later that year. "Creep" showed off Thom Yorke's clear croon, which over the years has seemingly gotten higher and higher.
It was also a dark and interesting song, with lyrics about a boy who's obsessed with a girl, trying to summon the courage to talk to her — but, he brings himself down, reminding himself, "I'm a creep/I'm a weirdo/What the hell am I doing here?/I don't belong here."
The song remains one of Radiohead's most famous to date, and, as such, has sparked a number of covers.
Two covers that stand out comes from females–the choir, Scala & Kolacny Brothers and indie pop artist, Ingrid Michaelson.
"Scala" is the Belgian girls' choir (conducted by Stijn Kolacny and arranged  by Steven Kolacny) best known for tackling songs from rock heavyweights like Nirvana, U2 and Oasis, and giving them an eery, angelic quality.
Their cover of "Creep" is stripped down and hymnal, and we hear the high-pitch trills from the girls' voices.
The song may also sound familiar because it was used in trailers for the Oscar-winning Facebook film, The Social Network.
Another great cover is that of feel-good, indie pop artist, Ingrid Michaelson.
She opts to do a cover of the acoustic version, accompanied by a softly-strummed guitar and her delicate voice.
Her version almost gives the song a more pleasant spin, because of her charming vibrato and ukulele-esque musical accompaniment.
---

Yohana Desta is currently obsessed with Butch Cassidy and the Sundance
Kid, everything Dave Grohl does, and listening to Arctic Monkeys on
repeat.
All author posts