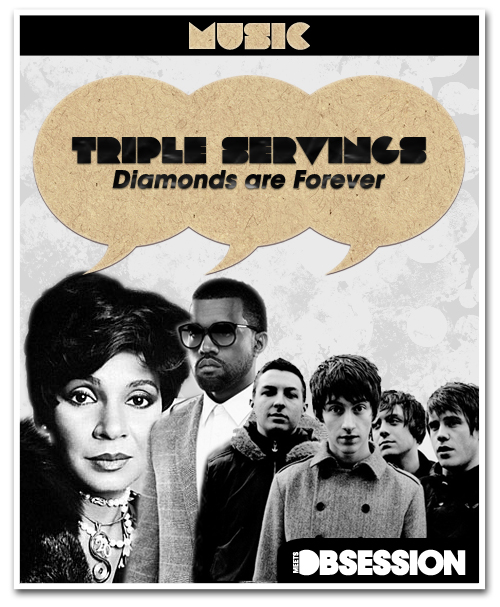 There are those wonderful, rare instances where a film's soundtrack becomes more famous than the film itself. In the case of the James Bond films, the songs are almost guaranteed hits–at least, that can be said of the track, "Diamonds are Forever," the 1971 song for the film of the same name. Welsh legend, Shirley Bassey made this song forever memorable as she sang it with her deep, operatic voice.
Brit rockers, Arctic Monkeys incorporated the classic James Bond hit into their live performances, and released a studio version of it in 2008. The track is decidedly more rock 'n' roll. And though lead singer, Alex Turner's voice is nowhere near as strong as Bassey's, he makes up for it with his raffish, youthful belting.
Now, let's take the song on a completely different route. In 2005, rapper, Kanye West took the song that had a Marilyn Monroe-esque fixation and re-made the hit into a song about the taboo topic of blood diamonds. Renamed "Diamonds from Sierra Leone," the track was the lead single for West's sophomore album, Late Registration and won him a Grammy.
The track features Bassey's original vocals for the chorus, but largely features West's rapping.
Accompanying the track is a music video directed by Michel Gondry (Eternal Sunshine of the Spotless Mind) who beautifully filmed a black and white video that aptly showcased creepy visuals, like a woman putting on an engagement ring only to see that her hand is now covered in blood.
Tags:
Arctic Monkeys
,
Kanye West
,
Michel Gondry
,
Shirley Bassey
,
Triple Servings